County awaits EPA approval of the valley's air quality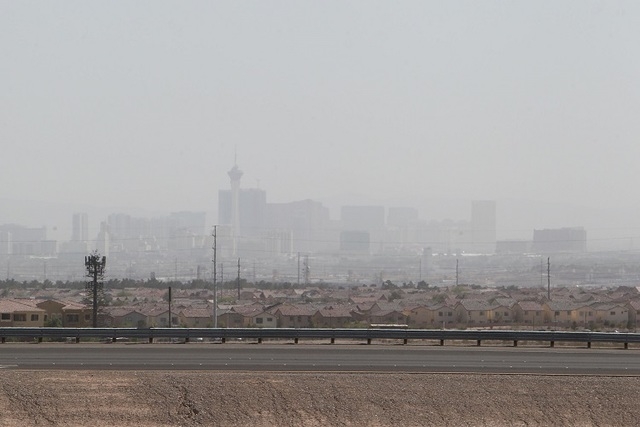 The valley is two-thirds of the way through ozone season, when Clark County Department of Air Quality officials urge residents to increase their efforts to reduce their contribution to the valley's air quality problems.
"A vehicle that isn't properly maintained can produce 100 times more pollution than one that is maintained," said Mike Sword, planning manager for air quality for the county. "Most of that is nox (oxidized nitrogen) and VOC (volatile organic compounds). They combine in the atmosphere to become ozone."
The department is tasked with managing the complicated mix of elements that can reduce the valley's air quality. The county is still waiting for a certificate of attainment from the Environmental Protection Agency that would declare that it meets or exceeds the air quality standard.
"Currently, we're waiting for the EPA to approve our maintenance plan," said county spokeswoman Stacey Welling. "Once that's approved, we'll be completely in attainment. We're anticipating that approval very soon."
Information on where the county stands on controlling specific types of pollution is available at tinyurl.com/lvair.
Although the county's public service announcements regarding air quality refer to minimizing dust, Sword is more specific about the kinds of pollution the department deals with, particularly PM10, particulate matter smaller than 10 microns, parts so small that they can get into the lungs, potentially causing serious health problems.
"Dust is a generic term, but it includes PM10 and a bunch of other stuff," Sword said. "Our success with PM10s began in the '90s when we started working with construction companies and land management to work on our Best Management Practices."
The practices are a series of controls, rules and guidelines designed to keep construction sites from producing too much much dust. Those practices include measures such as fencing off areas to keep people from coming in, breaking the crust of the soil and watering down construction sites.
"In 90 percent of the valley, watering is the answer," Sword said.
Most construction companies are willing to comply to improve the quality of life for themselves and their neighbors. When that doesn't work, financial penalties can be levied.
"I still remember the first penalty, which was just $50 for not having a water truck on site," Sword said. "The next day, you couldn't get a water truck for several states around. They were all called into service somewhere in the valley."
Residents can help with air quality improvement by calling the dust complaint hotline, 702-385-DUST (3878) and reporting sites that are creating dust.
There are also a number of ways to reduce pollution from motor vehicles, including limiting car trips by planning errands so they can be done in one trip; carpooling, bicycling or using public transportation; and keeping vehicles well maintained.
Filling up after sunset, not spilling the gasoline and not topping off the tank reduce ozone production. Keeping power usage lower by turning off lights and electronics when not in use and turning down air conditioning when no one is home help reduce the amount of fuel burned in power plants.
Contact East Valley View reporter F. Andrew Taylor at ataylor@viewnews.com or 702-380-4532.