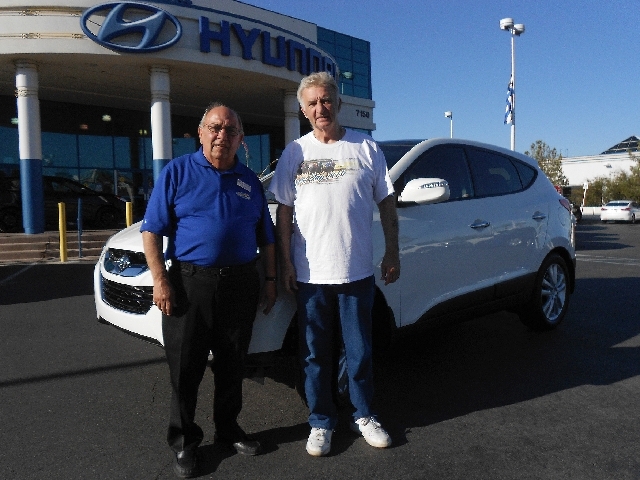 Nick Asaro, who has been with Planet Hyundai Sahara for four years, has a dedicated clientele who are loyal to the New York native who has been in the car business for nearly 13 years.
In fact, on a recent hot June day at the dealership, 23-year Las Vegas residents and former Chicagoans Shirley and Sam Bonica visited Asaro to purchase a 2014 Hyundai Tucson Limited.
"This is the second car we have purchased from Nick, said Sam Bonica, who moved to Las Vegas and joined the security department at the Mandalay Bay after retiring as a firefighter in Chicago. "We came to the dealership two years ago looking for a car and Nick really helped us out. He brought some water and showed us three different cars before we bought a 2012 Hyundai Elantra."
The Bonicas said they didn't hesitate when returning to the dealership to purchase their new vehicle from Asaro, who worked for 30 years as an elevator repairman in New York and Alaska.
"We like the fact that it sits up higher. There wasn't one thing wrong with the Elantra, but we needed a change for my wife because she has a bad hip," Sam Bonica said. "The Tucson is perfect for us and we love the warranty (10 years, 100,000-mile engine and five-year, 50,000-mile bumper to bumper).
"What we really like about Nick is … you ask him questions and he answers them. He doesn't push you to buy anything."
"I really like the fact that Nick doesn't pressure us. He's a good person and we trust him," Shirley Bonica added.
The Bonicas' first car deal came as 30-year automobile executive Paul Pelletier, now the dealership's general manager, was arriving from Austin, Texas.
"Paul really helped us, too. I think we were his first customers and he worked very hard to make sure we were happy," Sam Bonica said.
In addition, the Bonicas always return to Planet Hyundai Sahara for their service work.
"The service people are always very nice and friendly," Sam Bonica said. "We wouldn't go anywhere else."
The Bonicas are planning a trip to Chicago.
"We took the Elantra to California and got 40 miles to the gallon with it. We're planning to go see our kids in Chicago with the Tucson in February. In fact, whoever buys the Elantra is going to get a beautiful car, too," Sam Bonica said.
Planet Hyundai Sahara, at 7150 W. Sahara Ave., is part of a group of locally owned dealerships that include Planet Hyundai Centennial at 6200 Centennial Center Drive and Planet Hyundai Used Car Superstore at 7100 W. Sahara.
For more information, call 702-938-1400 (Sahara), 702-483-2200 (Centennial) or visit www.planetlv.com.