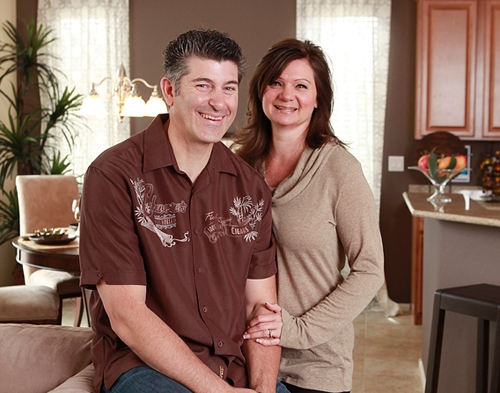 What initially drew homebuyers Leslie and Mark to their brand-new home was the floor plan and the desirable location in the Henderson area, but what the couple said they found when they visited The Willows planned community was the value in a Lennar's Everything's Included home.
The couple, who recently moved in, said their home had everything they wanted. No remodeling or repairs were needed, unlike some of the used homes they looked at. The home came with upgraded cabinetry, granite countertops and a large master suite with a walk-in closet. All of these features and amenities are part of the Everything's Included program, which offers buyers upgrades at no extra cost.
"The 'Everything's Included' home is amazing. The window coverings, garage door opener, prewiring for surround sound and the appliances make it easy to move in and be settled, Leslie said. "We have never seen another community that includes all of that. It is a huge value."
When home shoppers walk through a Lennar home, they will notice the several features are included in the home's purchase price.
Some may include granite countertops, extra-tall, raised-panel, maple cabinetry with crown molding, GE appliances, and 2-inch, faux wood blinds.
Plus, The Willows offers modern green technology to maximize the benefits of an eco-friendly lifestyle while saving homeowners money.
The new Lennar home automation system, radiant-barrier roof sheeting, low-energy, dual-pane, vinyl windows, improved insulation and dual-flush toilets also all come as standard.
Located near Sunset and Gibson roads in Henderson, this community is near the Galleria Sunset Mall, Sunset Station Hotel, schools, shopping, restaurants, outdoor activities and entertainment.
The integrated health village, called Union Village, is scheduled to open in the area in about five years. This project will contain a world-class health center, retail shops, a hotel and a culture center. The project is expected to create 17,000 jobs.
The Willows community presents four new single-family homes, ranging from 1,530 to 2,525 square feet with as many as five bedrooms and as many as four baths.
The Calistoga residence is a two-story home offering 1,907 square feet with three bedrooms, 2½ baths and a two-car garage.
"We love the fact that our home is brand new and our favorite part of our home is the loft upstairs. It's great," Leslie said.
The couple, who purchased the Calistoga Residence, said not only is The Willows the "best value" in the Henderson area, but the team of employees at Lennar made the process of buying a new home that much easier.
"Our overall experience was great. From meeting our sales consultant in the Welcome Home Center to the team on the field building our home," Leslie said. "We can't say enough about all of the people who got us into our home, and very quickly, too."
The Willows models are located at 754 Forest Peak St. in Henderson. Community hours this weekend are 10 a.m. to 6 p.m. Saturday and Sunday. For a complete list of communities in Las Vegas, call 877-204-4411 or visit Lennar.com.