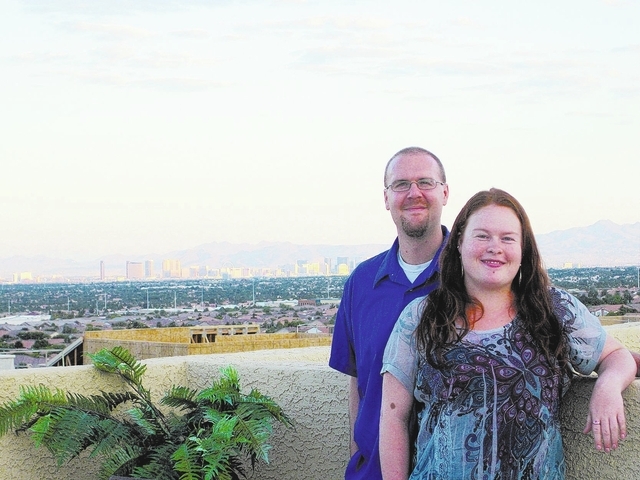 Chris Booker and Lisa Palmer said they like their view from the top.
The couple spends every morning and evening enjoying their personal views of the Strip and Lone Mountain ranges on the rooftop deck of their Ryland home. Booker and Palmer recently moved into their three-story Twilight model home at Ryland's Indigo at Hillside neighborhood just west of Summerlin.
"We really like the three-story design," Booker said. "Our entire first floor is a guest suite with a living space, bathroom and even a refrigerator. If you're from Minnesota and live in Las Vegas, you have lots of visitors so this is perfect for us and our guests."
The couple's Twilight floor plan is a 2,037-square-foot home with three bedrooms, 3½ baths and a two-car garage. Like every home in the neighborhood, it was built with Ryland's signature rooftop deck.
Booker said the rooftop deck is by far his favorite space in his new home. "Every morning I wake up, get ready and bring my breakfast up to the most tranquil place on Earth," he said.
"We were originally looking for a home with a balcony, but the rooftop deck is even better than a balcony," said Palmer. "And we weren't originally looking for a three-story home but really like its uniqueness and the separation of space. Every level has different functions."
All homeowners in the neighborhood enjoy programmable thermostats on every level, tankless water heaters and radiant heat barrier roofs in their homes.
"It is extremely energy efficient to be able to program the thermostat on every floor," Booker said.
The couple the entire process was easier than expected. "Our sales counselor Bethann was amazing to work with," Booker said. "If she was like the other 99 percent of sales agents we met when we were looking, we may have moved on. But she was patient and thorough with all of our questions and requests."
"Chris and Lisa invited me to their home after they moved in, and we enjoyed dessert on their rooftop deck," sales agent Bethann Frusco-Dumon said.
"You might think that if every home in a neighborhood has rooftop decks, you would lose some privacy with neighbors being able to see you or other homes blocking your views," Palmer said. "That is not the case at Indigo, because Ryland thought to build the homes at different elevations so everyone has a different view. Our neighbors also can't see us from their decks, so we have both views and privacy."
Indigo at Hillside offers homebuyers a choice of three contemporary floor plans ranging from 2,037 to 2,062 square feet of living space with as many as four bedrooms.
The neighborhood, which is not in a master plan, offers many amenities, including a community park, basketball court, swimming pool, playground and barbecue area. Scenic walking trails are on the right outside Indigo's gates.
Indigo at Hillside is above the main elevation of Las Vegas near Cheyenne Avenue and the West I-215 Beltway. The sales office is at 10537 Rainwater Drive. To visit, take U.S. Highway 95 north and head west on Summerlin Parkway. Turn right onto the I-215 Beltway heading north and exit Cheyenne Avenue heading west. Turn right on Alexander Road and right on Rainwater to the community. For more information, call 702-487-6378.