Couple gives Pardee kudos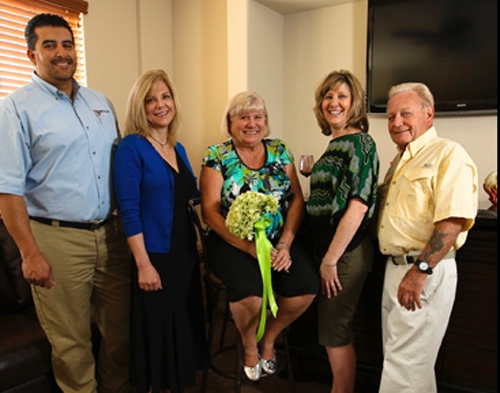 Barbara and Tony Gagliano have bought and sold many new houses over their decades together, so when they refer to their Pardee new-home buying experience as "the best yet," they definitely have the experience to back it up.
The Gaglianos live about three hours away in Arizona and are in Las Vegas so frequently for appointments and shopping trips that they decided to purchase a home here along with their daughter Janis.
"Our Pardee experience began by accident," Barbara Gagliano said. "We were on our way to look at homes in another part of the valley but got lost and discovered Trailridge and got our hearts set on a specific floor plan and home site."
It was a while before their desired home and home site became available, but Pardee Homes' sales agent Toni Carozza and new-homes specialist Amie Sibley kept them informed throughout the process.
"I can't believe how well we were taken care of throughout the entire process, from our sales representatives who went above and beyond to stay in touch with us in Arizona, to our construction superintendent Carlos Zuluaga and customer service representative Terry Mozinski, who also exceeded our expectations in so many ways," Barbara Gagliano said. "This is without a doubt our best home-buying experience yet and the employees of Pardee made it so."
According Klif Andrews, Division president, Southern Nevada Division of Pardee Homes, customer service has always been a top priority for the company. The Southern Nevada Division of Pardee Homes recently received the highest scores for excellence in customer service and design selection from homebuyers surveyed by a national consumer research company focusing on customer satisfaction.
"We recognize that customer service is more important than ever, and our employees really do their best to excel in meeting the needs of our buyers, including the Gaglianos," Andrews said.
And Barbara Gagliano agreed. "I really can't say enough good things about our experience and the employees who were involved."
Celebrating its 60th anniversary in the Las Vegas Valley, Pardee has built homes and communities for more than 40,000 families in Southern Nevada.
Newly opened communities include the LivingSmart Homes offerings in Mountain's Edge, a master-planned community in southwest Las Vegas, Providence, a master-planned community in northwest Las Vegas, and Eldorado Ridge in the Eldorado master-planned community in North Las Vegas.
Durango Ranch, located near the intersection of Pebble and Cimarron roads in southwest Las Vegas, features single-story homes on large home sites with optional casitas and garages that can accommodate as many as four cars.
Other Pardee neighborhoods include Montclaire in Henderson, Riverstone in Prescott Park and Solstice in Aliante in North Las Vegas.
For more information, contact an online sales agent at 604-3332 or visit www.pardeehomes.com. Follow Pardee on Facebook at www.facebook.com/PardeeHomesLasVegas.