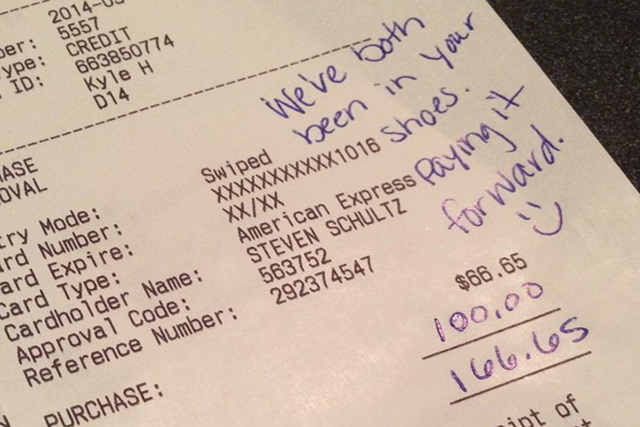 Generally, when people receive bad service at a restaurant, they leave a terrible tip or nothing at all. One couple left their server $100 for a $66.65 bill.
Fun fact: tip stands for "to insure promptness." But when one couple recognized that their waiter was not at fault for their poor experience, they decided to take action.
"Makenzie and Steven Schultz ate at an undisclosed restaurant Saturday night. The service 'sucked,' as they put it. It took 'forever' to get their food," ijreview.com reports.
The two used to wait tables themselves and took to Facebook to explain their reasoning behind the generous tip.
"So here's the deal. Our service tonight sucked. Took 20 minutes to get water, 40 minutes for an appetizer and over an hour for our entree. People all around us were making fun of the restaurant & how bad the service was. But, it was very obvious that the issue was being short staffed, not the server. He was running around like crazy and never acted annoyed with any table. At one point we counted he had 12 tables plus the bar."
Contact Ashley Casper at acasper@reviewjournal.com. Find her on Twitter: @TheCasperA