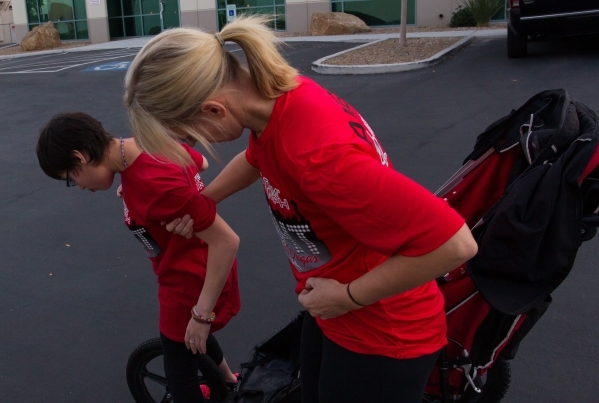 In a city of bright lights, Henderson residents Eden and Tony Capsouto are allowing individuals the opportunity to shine.
Launching myTEAM TRIUMPH-Light of Las Vegas chapter, the couple provide disabled residents the ability to participate in endurance events using specialized running chairs.
"We have people come to us and say the experience has united their families in ways they've never had before," Tony said. "It has created a tight-knit community, and it bridges a gap between athletes and individuals with disabilities."
The group plans to participate in the Candlelighters Childhood Cancer Foundation of Nevada's Superhero 5K Sept. 13 at Exploration Peak Park, 9700 S. Buffalo Drive.
Each rider, known as a captain, is partnered with a team of athletes, called angels, who push or pull them across the finish line.
"The captains lead the angels across the finish line while the angels guide and watch over the captains," Eden said. "The names are very fitting."
Now mastering 5Ks and marathons, the Capsoutos hope to tackle triathlons by purchasing special rafts to assist with the swimming portion and converting the groups' running chairs into cycling carriages.
"If you look at these kids, they are athletes," Tony said. "They train up for it, they go through the process, and when they come back, they're exhausted. They've endured just as much as anyone else."
A Las Vegas native, Eden was inspired to launch the nonprofit in 2013 when her daughter Taylor, 22, who has cerebral palsy, was interested in training for a triathlon with her.
"She found that by including Taylor in her training and running, Taylor's behavior started changing for the better," Tony said.
Using social media, Eden reached out to Team Hoyt, a father-son duo who compete in endurance events despite the son having cerebral palsy. The pair was inducted into the Ironman Hall of Fame in 2008.
"Their publicist put me in touch with myTEAM TRIUMPH, and within days, the organization sent a running chair to our front door," Eden said. "Taylor and I fell in love with running together, so Tony and I felt called to start a local chapter because there was nothing like it here."
Committed to making a difference, the Capsoutos use a grass-roots approach to gain donor and volunteer support. Since its inception, the nonprofit has received 13 running chairs.
"Like anything else, if you put enough heart into something, the fruits of your labor start to pay off," Tony said.
Outside the nonprofit, Eden's world continues to revolve around individuals with special needs. She was encouraged to become an early childhood development teacher by her children, Taylor and 18-year-old twins Erin and Jorden, born premature at 24 weeks gestation.
"I was a single mom with three children diagnosed with cerebral palsy, and I had a hard time getting people to include us and hear our needs," Capsouto said. "My children didn't have the opportunities I wanted for them, so my passion to help other families like us just kept growing and growing."
A graduate of Cimarron-Memorial High School, Eden attended UNLV for her bachelor's in special education and her master's with an emphasis on autism and early childhood development. A teacher for 12 years in the Clark County School District, she instructs 3- to 6-year-olds with autism at Galloway Elementary School, 701 Skyline Road in Henderson.
"Being a special needs teacher and mother, Eden knows about lack of inclusion for these kids," Tony said. "These running events are life-changing for everyone involved. It's an amazing experience."
As the Las Vegas chapter grows, the Capsoutos plan to expand into Northern Nevada.
"We're so humbled by the opportunity to give families this experience and watch their lives change as it unfolds," Tony said. "We see this spreading across Nevada because we know that inclusion needs to be happening everywhere. We have no boundaries."
Visit lightoflasvegas.org or call Eden Capsouto at 702-596-6762.