Crohn's & Colitis Walk to be held May 31 in Mountain's Edge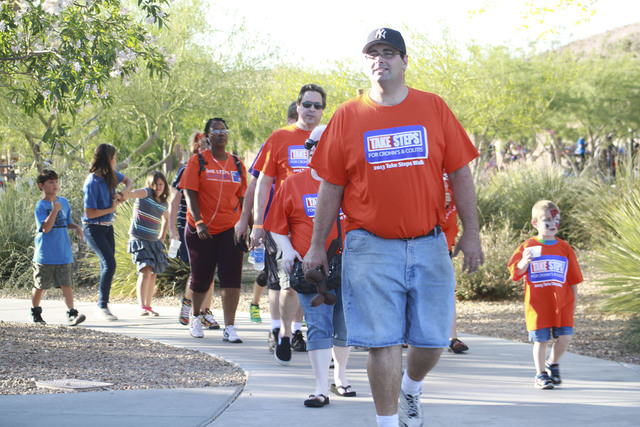 There's still time to sign up to help raise money to find a cure for digestive diseases by participating in the Take Steps for Crohn's &Colitis Walk, which will take place from 8 a.m. to noon May 31 at Exploration Park in the Mountain's Edge master-planned community.
Crohn's disease and ulcerative colitis affect 1 in 200 Americans; children younger than 18 constitute the fastest-growing patient segment.
The Take Steps community walk also features activities for people of all ages, including breakfast, prizes, live entertainment and a raffle. For children, there will be balloon animals, face painting, cotton candy and more, presented by Virtuoso Kids. ACE DJs will entertain and serve as the event's master of ceremonies. Well-behaved, leashed pets are welcome.
The event is free to attend. No registration fee is required to walk, but a $25-per-person donation is encouraged. Registered team members and attendees who donate will receive a wristband for free food and other refreshments. Water, provided by Pepsi, will be available to participants.
To join a team, or register, visit www.cctakesteps.org/lasvegas or www.facebook.com/takestepslasvegas.
"Joining a team and walking are just a couple of ways to support those with Crohn's disease and ulcerative colitis," said Kimberly Gradisher, community development manager of the Crohn's &Colitis Foundation of America's Las Vegas chapter. "People also can donate to a team or the foundation, be a cheerleader for the participants or just join in the festivities."
The walk will take place around Exploration Park, which offers a water-play area, outdoor amphitheater and Western-themed village park-within-a-park.
The 80-acre park's signature feature is the 2,846-foot-tall Exploration Peak, a fully restored natural mountain park where people can walk, jog and bike different trails to see panoramic views of the Las Vegas Valley.
This year's Take Step sponsors are the nonprofit Crohn's &Colitis Foundation of America, Mountain's Edge, Dignity Health, Sigma-Tau Pharmaceuticals, UBS, Janssen Pharmaceuticals, Abbvie and Actavis. Each will have a booth at the event.
The association will have educational materials to inform participants of how they can help and support friends and family with the diseases, which so far lack a cure.
Festival attendees also can tour the fast-selling master plan and its many neighborhoods.
Mountain's Edge is recognized for its proximity to the Red Rock National Conservation Area, major employment and Strip entertainment offerings; a wealth of floor plans and single and multifamily subdivisions from top builders; parks, trails, public facilities and schools.
To learn about Mountain's Edge, visit the information center at 9725 S. Buffalo Drive, call 702-898-5777 or visit www.mountainsedge.com.