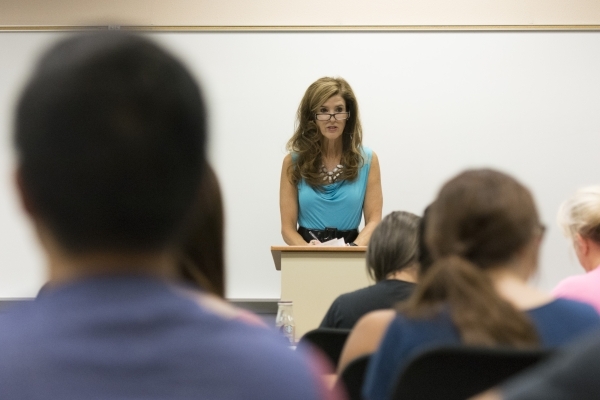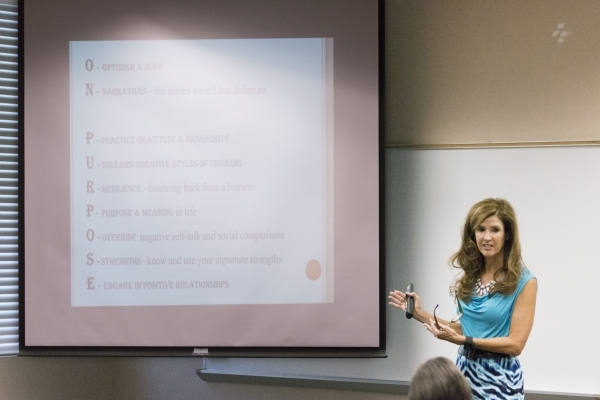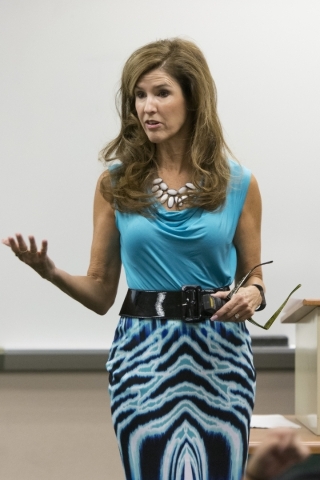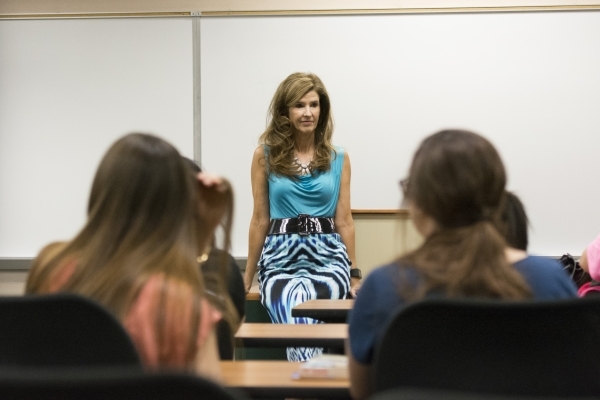 Here's something to cheer you up: Happiness is not merely an emotion that hinges on happenstance.
No, it's not that haphazard, said Ann B. Bullis, who created a course on the topic at the College of Southern Nevada called the Psychology of Happiness.
"Fifty percent of how happy you are, you inherit genetically from your biological parents," said Bullis, a psychology/sociology professor at the college and a licensed therapist who lives in the Henderson area. "Ten percent comes from life circumstances. Forty percent is on purpose — your intentional activities, your deliberate behaviors. And that's what my class and my speaking engagements are all about. What can we do with that 40 percent to become happier?"
The course provides an overview of happiness and well-being through the perspective of positive psychology, which is the scientific study of happiness. It delves into how the emotional state relates to stresses and health.
Bullis is teaching the class this semester at the West Charleston campus, 6375 W. Charleston Blvd. She taught it for the first time last semester at the Henderson campus, 700 College Drive, and plans to offer it there again in spring 2016.
Student Robin Metz, who is taking the course at the West Charleston campus, said she considers herself an optimist but is experiencing benefits from it nonetheless.
"It's made me feel a lot better about myself because I'm going through a lot of stuff in my family right now," Metz said.
Students must actively engage in making themselves and others happy if they wish to take the course. They must maintain a journal, logging three good things that happened each day for at least five days per week.
"This primes their mind to look for the positive," Bullis said. "When we condition the mind to focus on the positive, we're going to focus more on the positive and less on the negative."
Students also must document one negative event per week that was or could have been a blessing in disguise.
"I can't believe how many negative things I've gone through that I can look at it with a different perspective," Metz said. "No matter what you're going through, you can turn it into a blessing in disguise."
Student Alexandra Poulakis wound up taking Bullis' course by accident, thinking it was a psychology of human behavior class.
"Definitely a blessing in disguise was me signing up for that class," she said. "That was one. It actually kind of worked out good because I had just lost my job, and I was feeling kind of down and bummed."
Poulakis said she has since been hired as a clinical research analyst for a dermatologist's office.
Students also must journal once a week about any instance where they took action to help other people. After all, giving plays a significant role in being happy, Bullis said. Gratitude is also important, she said. Many studies say it's crucial to maintaining a sense of well-being, she explained.
"The natural outcropping of gratitude is generosity," Bullis said. "One study found that the same area of the brain is activated when people donate to a charity as when they have sex or eat chocolate, not necessarily at the same time."
Bullis was a professional dancer on the Strip before she began attending college to study psychology. A tragedy in her family prompted the change, she said.
"My dad suffered from depression most of his life and finally engaged in the ultimate expression of depression and despair: He committed suicide," she said. "I wanted to find out what would make someone do that."
Bullis said her father's death occurred four months after she joined the cast of "Jubilee!"
"It was my dad's favorite show, and I really wanted him to see me in it," Bullis said.
Before teaching at CSN, Bullis worked with a couple of counseling agencies, as well as for Southern Nevada Adult Mental Health Services.
"I was on their mobile crisis team, where I would go to emergency rooms and assess and diagnose the psych hold patients," she said. "I had to do a suicide risk assessment for every single patient. One of the questions was, do you have feelings of hopelessness? Many psychologists believe that a yes answer to that question is the single most important determinant of whether they will actually go through with the suicide act. So hope is so important. My class helps people develop optimism and hope."
The elective course counts as 3 credits and is called psychology 299 and categorized as a special topics class.
"It's not just for psychology majors," Bullis said. "It will fulfil any humanities requirement for 3 credits."
Poulakis said she liked the class because it was taught from a unique perspective.
"It's pretty interesting because usually when you think of psychology, you think of the bad things," she said. "You tell people that you're studying psychology, and they're like, 'Oh, don't psychoanalyze me.' This class is a little different. It's trying to find out how to be positive. It's more along the lines of, 'how can we make life better for you?' "
Aside from teaching, Bullis is conducting research for a book titled "Blissful on Purpose," due to be released in 2016. She has a company of the same name, offering lectures and workshops for public and private entities, as well as motivational and leadership conferences.
Visit blissfulonpurpose.com. For more on the class, visit csn.edu.
— To reach Henderson View reporter Cassandra Keenan, email ckeenan@viewnews.com or call 702-383-0278. Find her on Twitter: @CassandraKNews.