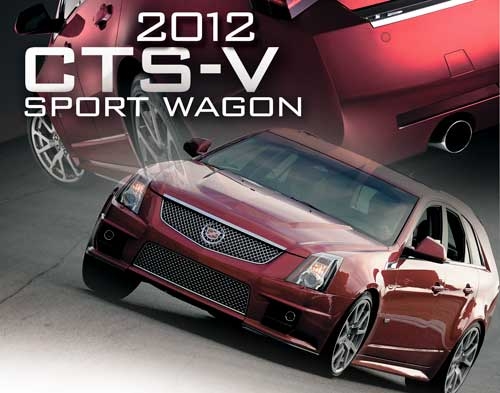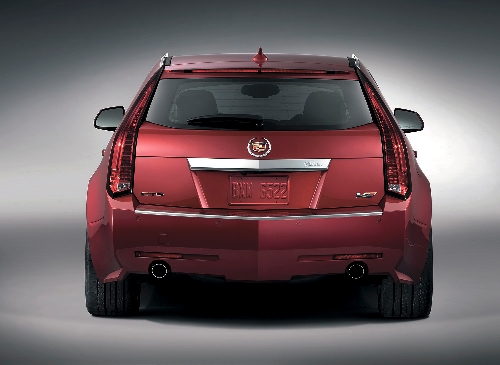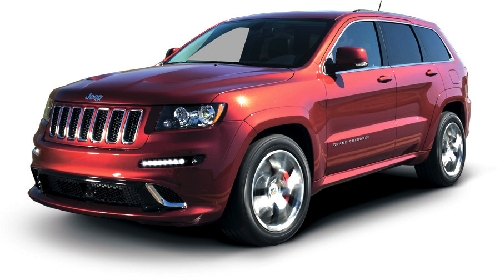 Left-lane lingerers beware: The Cadillac CTS-V is coming to get you, and in a big hurry.
A recent 500-mile combination freeway/two-lane drive proved that a CTS-V traveling, shall we say, at full-on passing velocity, is capable of moving anyone, and especially terminally inattentive left-lane bandits, out of the way. In fact, it's doubtful that even a lights-a-blazin' cop car could have cut such an instantaneous swath.
That's just one of the joys associated with piloting the CTS-V wagon, one of a trio of performance-upgraded Cadillac CTS models, including sedan and coupe editions, to proudly wear a multicolored "V" symbol across its flanks and keister.
Along with an admittedly rapid closing speed, some credit for the traffic-clearing effect goes to the V's apparently intimidating wire-mesh-look grille and massive lower air intake/spoiler. These elements — common to the coupe and sedan – blend perfectly with the rest of the wagon's knife-edge styling. There's absolutely no impression that the extended roofline was tacked on as an afterthought. It appears to be designed with purpose, just like the interior.
The test car was equipped with optional multiadjustable Recaro-brand ventilated buckets, upholstered in high-end leather and suede. They fit like a glove, thanks to adjustable pneumatic bolsters inside the seat cushions and backrests that allow for dialing in just-right firmness. The test vehicle was also equipped with an available suede-wrapped steering wheel that looked great and exhibited plenty of nonsweaty grip.
The rear seat was also nicely turned out, but it required some contortionist moves for adult-sized passengers to enter and exit. When function follows form, as is the case with the wagon, some practicalities are bound to take a back seat (pun alert) and the wagon loses some comfort points here as a result.
Another shortcoming is evident behind the rear seat, where cargo space isn't what it appears. Cadillac claims that the wagon offers 25 cubic feet of stowage space (about double the trunk room found in a CTS sedan). However the combination of the wagon's sloping roof and a higher-than-average load floor limits the size and shape of bulky items that can be placed there without blocking the rear view. Fortunately, the split-folding rear seat helps compensate for this shortfall and the huge power-operated liftgate makes cargo access a snap.
Thoughts of practicality are quickly replaced with an adrenaline rush (which always wins out) once the V's Corvette ZR1-based 6.2-liter supercharged V-8 rumbles to life. Barely noticeable at low speeds, actually, the V provides a power-to-weight ration never before seen in Cadillac's 110-year history. The Corvette ZR1 makes 638 horsepower, but the V's output is a not-too-shabby 556 horsepower and 551 pound-feet of torque that almost succeeds at making this CTS think it actually is a Corvette.
It's not just the head-pinning straight-line acceleration that's worth talking about. The adjustable (Tour and Sport) Magnetic Ride system constantly adjusts shock damping to provide impressive control over a variety of surfaces, which also keeps the wagon tracking true and flat in the turns. And unforgettable are the massive Brembo-brand brakes that haul the 4,250-pound wagon to a stop as if it had twin parachutes.
The test car was fitted with the optional six-speed automatic transmission, but, as with all CTS-V cars, a six-speed manual gearbox can be specified.
A high-performance touring machine demands an appropriate level of fantasy content and the CTS-V carries it to near extremes with standard 10-speaker Bose audio package, navigation system, bright xenon lighting and a power liftgate. Along with the Recaro seating upgrade, extra-expense items include a double-size sunroof, polished aluminum wheels and a wood-trim upgrade.
The "base" CTS-V wagon clocks in at about $65,000, delivered, but the loaded-up test model brought the total north of $71,000. But, believe it or not, that's pretty reasonable given its Superman-like performance, eye-turning shape and ability to provide you the deed to the left lane.