D.R. Horton kicks off sales event
September 17, 2010 - 11:00 pm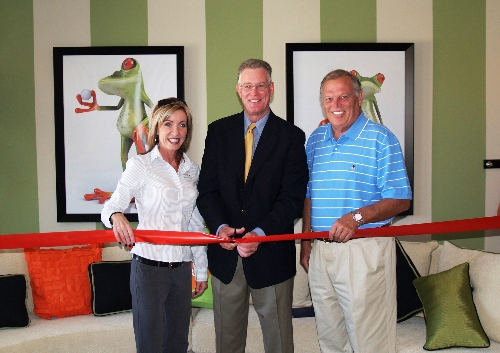 The Las Vegas division of D.R. Horton is holding America's Home Team Sale today and Sunday. The builder has revamped pricing on more than 80 homes that are available for immediate move-in.
According to division Marketing Director, Jeff Ward, the Builder's Concierge Service is the key to the America's Home Team Sale.
"Our concierge service makes shopping for a home a fun and painless process," Ward said. "We encourage home shoppers to call 501-6301 and describe the perfect home for their family. Our concierge will send these folks to the exact community and often the exact home which fits the bill. In addition, our concierge has information on new communities which we have yet to place on our website. For example, we are taking an interest list on our newest master-planned community, Buffalo Ranch, which is located just north of Spanish Trails."
D.R. Horton is currently pre-selling three new northwestern communities, that are not yet being advertised to the general public. All of these communities feature single-story plans and prices for these new plans begin at $149,900 at the Vistas. Information for all three pre-sale neighborhoods is available only through the D.R. Horton Concierge.
D.R. Horton is offering incentives on its Triplex series of homes, which are available in four locations. These homes feature attached garages and community pools. Pricing at Hollywood Ranch begins at $87,000 for a two-bedroom home. According to Ward, the builder is offering Home Team incentives, which reduce the buyer's out-of-pocket expenses. Hollywood Ranch is located at Vegas Valley Drive and Hollywood Boulevard in the eastern portion of the valley.
D.R. Horton is offering incentives at St. Rose Court, which is located at St. Rose Parkway and Jeffreys Street. This gated triplex community has homes available for immediate move-in ranging from 1,210 to 1,617 square feet. This location is near Interstate-215, the Las Vegas Beltway, St. Rose Hospital, the Las Vegas Athletic Club, dining, retail and services.
Southern Hills in Henderson and Glenbrook Estates on Las Vegas Boulevard feature the new Flex Room Over Garage or FROG, a single-story floor plan with an additional second-story located over the home's three-car garage. The FROG allow for a single-story living experience, with bonus space for additional rooms including a game room, bedroom or office.
Information can be obtained by calling the D.R. Horton Concierge at 501-6301. A list of homes available for immediate move-in can be viewed at HortonReady.com.