D.R. Horton to open two subdivisions
October 6, 2012 - 1:05 am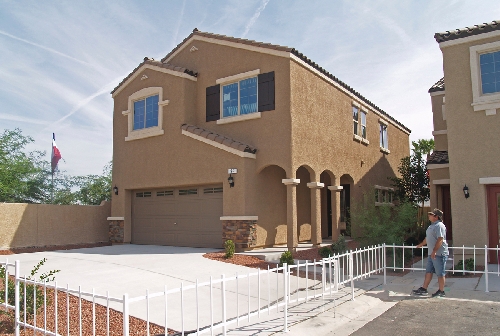 D.R. Horton's Las Vegas Division today will open two neighborhoods: Loretto Bay and Solamar Cove.
"Beautiful, functional homes, at a great value. Northwest to Henderson, we've got you covered," said Scott Harwood, vice president of sales in Las Vegas.
Today's grand openings will be held from 11 a.m. to 3 p.m. and will include music, prize drawings and giveaways. Gourmet food and dessert trucks will be available.
The homebuilder will offer special financial incentives this weekend.
In addition, DHI Mortgage representatives will be at both locations to help shoppers get prequalified for a loan and answer mortgage questions.
The company offers the DHI Mortgage Home Buyers Club, a free program that helps homeowners get their credit in order to purchase a home.
Loretto Bay is on Wigwam Parkway, west of Stephanie Street, in Henderson. The homes, which range from 1,735 to 1,935 square feet, offer as many as four bedrooms. Prices start at $180,900.
"A gated community, sparkling pools, beautiful single-family homes and Cornerstone Park opening right across the street; it really is more than just a new home, it's a lifestyle here at Loretto Bay," sales agent Brian Frabbiele said.
In the northwest area, near the Providence master-planned community, is Solamar Cove at Elkhorn and Fort Apache roads.
Solamar Cove offers floor plans that measure from 2,300 to 2,975 square feet. Prices start at $199,900.
"Current market conditions have left many home shoppers frustrated with trying to get offers accepted on homes that already have multiple offers," Frabbiele said.
"The process is long and they just want to buy a home. Loretto Bay and Solamar Cove are a solution for these folks. In most cases, we can build them a home in less time than it takes to get a response from the bank on an offer."
In May, D.R. Horton was named America's No. 1 Homebuilder for the 10th consecutive year by Builder Magazine.
The Las Vegas Division currently has more than 18 active neighborhoods across the Las Vegas Valley. A list of current inventory homes is available at www.HortonReady.com .
For more information, visit www.drhorton.com/LasVegas or call 702-501-6301.