Dance helps special education students reconnect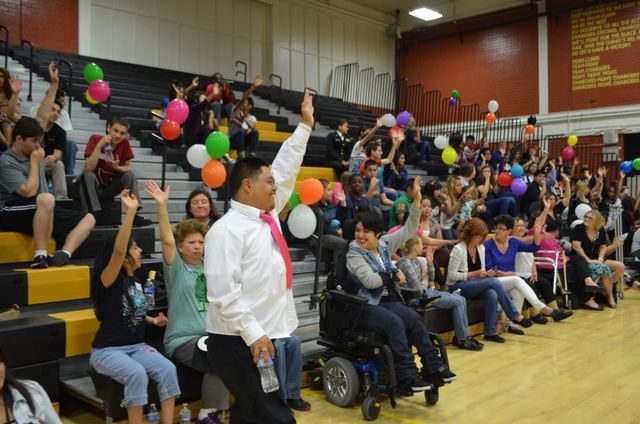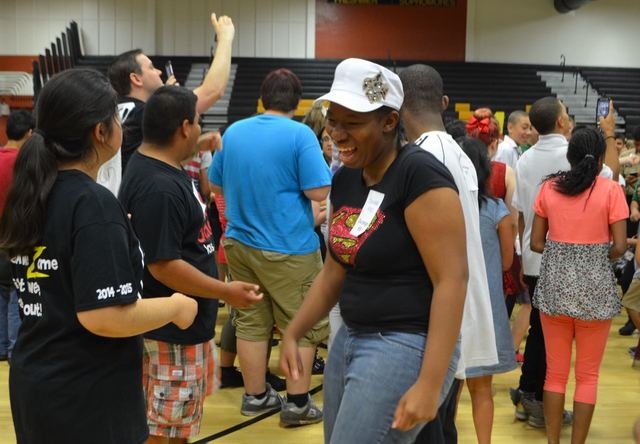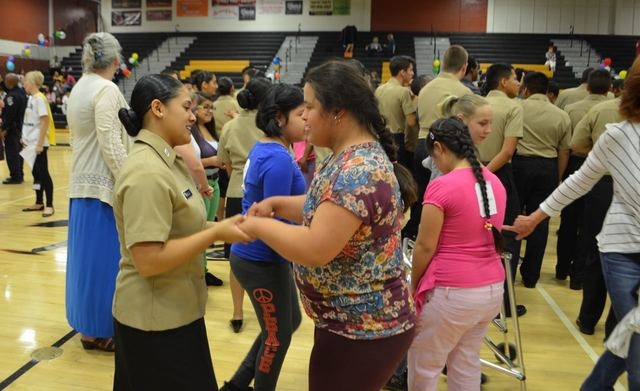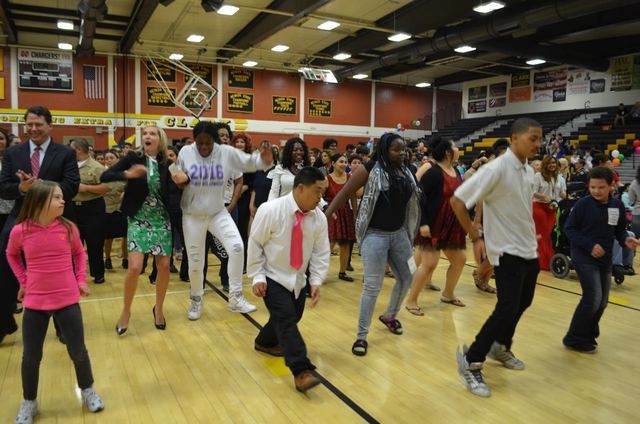 Clark High School's gym was packed with heroes on May 5.
Police officers, Junior ROTC officers in training, paramedics and Nellis Air Force Base honor guard members were there alongside Thor, the Black Widow and Supergirl.
But one hero was missing: Clark legend Luke Werner. As students, staff members and volunteers from schools all over the valley gathered for the annual dance for special needs students, Clark principal Jillyn Pendleton asked them to help her honor the 1976 graduate, who had stuck around as a volunteer and inspiration, a man students affectionately called "Mr. Charger."
"We lost somebody very special here at Clark High School on Friday (May 1)," Pendleton said. "Our very own Luke Werner lost his battle with cancer, and I would just want to ask if we can take a moment of silence to remember Luke Werner, who would have been here with us today."
That moment of silence was the only one during the annual gathering that drew more than 320 students, 250 peer mentors and community volunteers to the school, 4291 Pennwood Ave.
The crowd was treated to performances by Clark's dance and drill teams, the JROTC drill teams and a choral performance of the national anthem featuring Calvin Sierra, a senior in Clark's special education program.
Sierra's mother, Cresencia, and his sister Gennybee were in the audience, amazed.
"Oh my gosh, I'm so proud," Cresencia Sierra said. "I'm so surprised. He learned it all at school."
"Everyone knows him here," Gennybee Sierra said. "Everywhere we go, everyone says hi to him."
"Calvin is just an amazing individual; all my students are," said Mary Ann Pedley, event organizer and special education teacher. "Every Monday, I would ask my students, 'What did you do over the weekend?' Calvin created songs, and he'd sing them for us."
In addition to singing, Sierra has studied guitar and dance. When he heard the national anthem in a school assembly, he asked a teacher to help him learn the words. Once he had learned them, he seized an opportunity to sing the anthem at the Spring Valley Special Olympics.
"He sang it beautifully," Pedley said. "Calvin's talents came through because we stood still long enough to listen."
There wasn't much standing still at the heroes dance. As students arrived, they were escorted into the gym and led beneath an arch of sabers held aloft by JROTC members. Once the music started, Pendleton, Ward 1 Las Vegas City Councilwoman Lois Tarkanian and Clark County School District superintendent Pat Skorkowsky danced along. Special needs students mixed with peer volunteers, and the gaps that may have existed between them dissolved.
"The only way we can create a more inclusive world for people with disabilities is to include people without disabilities," Pedley said.
This is the seventh year Pedley has organized a dance for the district's special education students. It's the fourth year Clark High School has hosted the event. Every year, she has tried to involve a new batch of students without special needs.
"I never stick with the same students," she said. "It's important to get exposure with as many as possible."
She hopes peer mentors will take the experience to college, the military or wherever they go. Many students have come back to say the experience inspired them to continue serving as volunteers or teachers.
"It's really had an impact with the nondisabled," she said.
Pedley said school and community volunteers and donors came together to make the event possible. Lunch and Girl Scout Cookies were brought in by Three Square food bank, music was courtesy of KVEG-FM radio and refreshments came in from Winder Dairy.
The biggest challenge was securing transportation for students.
"Providing funding for the transportation is getting almost impossible," Pedley said.
She said that each bus costs about $225. Some schools, depending on how many wheelchairs they need to bring, may need three buses to get to the event. This year, the school district funded buses, but Pedley said in the future, schools will need to seek public support to help pay for event transportation.
Gathering students from all the valley's schools is vital, Pedley said.
"It's not only about the dancing," she said. "It's about being reunited with students you haven't seen in years."
As special education students progress through the educational system, they move from school to school to access programs specific to their needs. The likelihood of sticking with the same peer group is slim.
"For many of them, this is a reunion they look forward to," Pedley said.
For more information, visit clarkchargers.org or call the school at 702-799-5800.
To reach View contributing reporter Ginger Meurer, email gmeurer@viewnews.com. Find her on Twitter: @gingermmm.