Darnell Elementary namesake sought new education mediums
January 1, 2015 - 1:00 am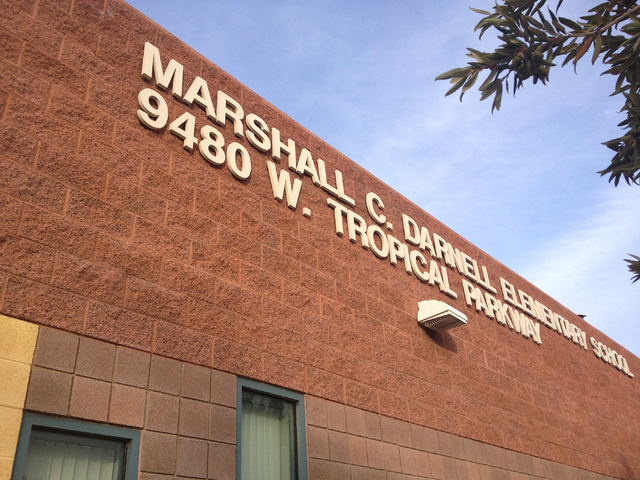 A career educator who spent his life making a difference in the Clark County School District died last year, but his legacy lives on through family, friends and the hundreds of lives of students and teachers he touched during his years of service.
For his efforts to provide quality education and better opportunities for Las Vegas residents, northwest-based Darnell Elementary School was named for Marshall C. Darnell.
"His passion in life was to bring quality education to students because he knew that it could open many doors for them," said his wife, Patsy. "He had a true concern for everyone and held high standards for himself and others."
Darnell was born Nov. 15, 1937, in Harrodsburg, Ky., to James Milton and Elizabeth Robinson Darnell. He was the youngest of three siblings.
He graduated from Harrodsburg High School in 1956 and received his associate of arts degree from Campbellsville Junior College. He then enrolled at Eastern Kentucky State College, where he received his bachelor's degree in 1960 in social science and English.
Darnell moved to Las Vegas in December 1960 and began his education career as a substitute teacher at Rancho High School in 1961.
He then taught two years at Bridger Junior High School, which is now a middle school, and took a leave of absence in 1963 to pursue his master's degree in guidance and counseling at Eastern Kentucky State College.
He married Patsy Lucile Pace on Aug. 1, 1964, with whom he had two children, Theresa Michele and James Marshall.
"We were married for 50 years," Patsy said. "He was not only a wonderful husband, but he was my best friend. We always supported and treated each other with nothing but respect."
During the years that followed, Darnell held numerous positions in the district, including school counselor, assistant principal and principal at a junior high school level.
Darnell received his doctorate in education administration in 1977 from UNLV.
At Valley High School, he took the role of principal and went on to become the director of secondary education, secondary curriculum, vocational education and assistant superintendent of special projects for the district.
When he retired in 1990, he was the assistant superintendent for management and operations for the district.
He worked with staff to develop a dynamic program as director of secondary curriculum, and as the director of vocational education, he created the concept for an area technical trade center.
In addition, he was actively involved with Shadow Hills Baptist Church, United Way and the Boy Scouts of America. He was also a member of the Southwest Rotary Club, where he served in every elected office, including president, from 1992-93.
"He was able to take his skills and get people to work together," said former Southwest Rotary Club president Keith Thomas. "He had such a long career, and it was not just the length of service that made him stand out but the quality of his service and the relationships he built while he was doing it. He leaves a legacy of service above self."
He served on numerous district rotary committees and was chosen to lead the group study exchange program to the Philippines in 1989.
On Aug. 30, 2000, upon the request of Darnell's former secretary, Lenore Kessler, the school name committee recommended the school at 9480 W. Tropical Parkway to be named for the approximately 30-year educator.
"He was extremely humbled; he didn't expect to receive such an honor," Patsy said. "One of his greatest joys was being able to visit the school and interact with the administration."
Darnell Elementary principal Patricia Cobb said Darnell used to visit the school three to four times a year and ask teachers if they needed extra materials, which he would donate.
"He was so generous and smart as a whip," Cobb said. "Many of the teachers took pride in working with him."
Darnell died Aug. 21 at 76 and is survived by his wife, two children and two great-grandchildren.
"He was a fun and loving person. He was always concerned about others," Patsy said. "He contributed his life to giving the young people of Clark County the best education possible, and he changed the lives of countless individuals."
Contact North View reporter Sandy Lopez at slopez@viewnews.com or 702-383-4686. Find her on Twitter: @JournalismSandy.