Data show minorities missing in state Legislature, Congress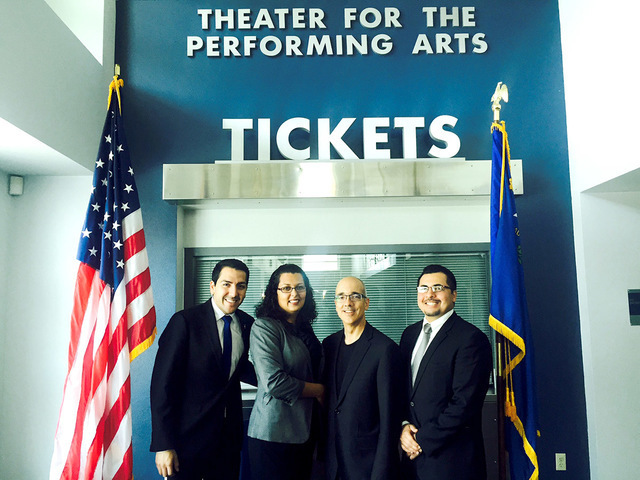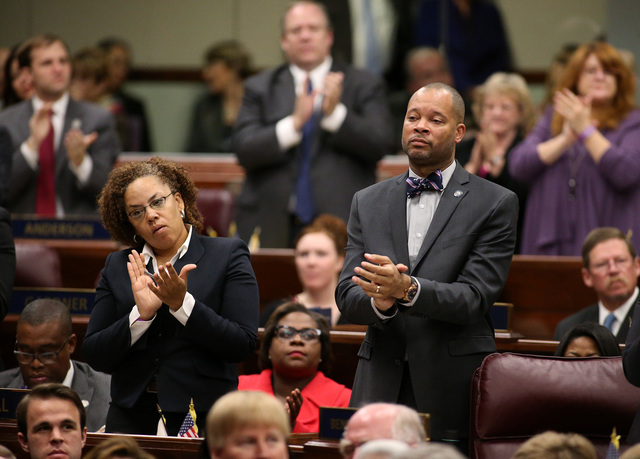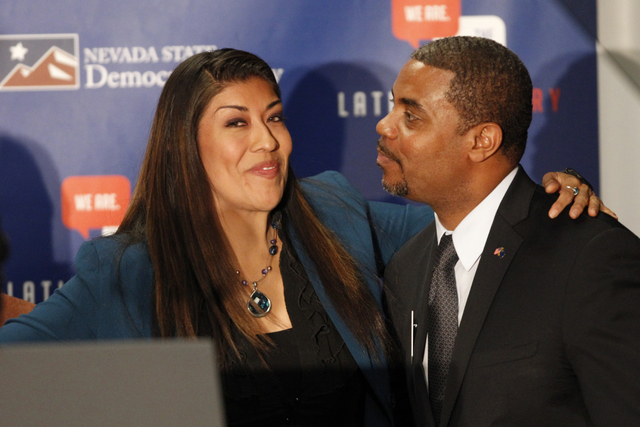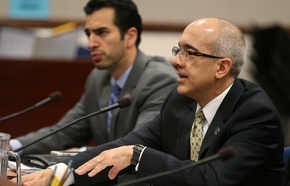 CARSON CITY — The 63 elected officials who serve in Nevada's Legislature do not fully reflect the ethnic diversity of the state's population, but representatives of minority groups say they are making gains through education and community awareness.
An Associated Press analysis ranks Nevada third for underrepresentation of Hispanics in Congress and the state Legislature, and second in underrepresentation of Asians.
Latinos now comprise 28 percent of Nevada's population; Asians comprise 8 percent. Nevada's statewide population is 2.8 million according to the American Community Survey 2014 one-year estimate.
None of Nevada's elected officials in Congress is a person of color, though the first representative elected to the newly created 4th Congressional District in 2012 was Democrat Steven Horsford, who is black. That seat is now held by Republican Rep. Cresent Hardy, who faces a Hispanic Democratic opponent, Ruben Kihuen, in November. Catherine Cortez Masto, a Democrat, would become the first Latina elected from Nevada to the U.S. Senate if she wins in November against Republican Rep. Joe Heck.
In the state Legislature, 14 percent of members are Hispanic and 10 percent are African-American, according to the AP analysis taken partly from a 2015 report by the National Conference of State Legislatures. That report said 6 percent of Nevada lawmakers are multiracial and 70 percent are white.
Nevada has no sitting lawmaker of Asian heritage, though there have been two in recent history.
That doesn't surprise Rita Vaswani, president of the Las Vegas India Chamber of Commerce. But she said the Asian community's political activity is evolving.
"The Asians predominantly are not involved in politics," she said. "They're so far behind in getting involved. So they rely on their community leaders to help them."
She pointed to the Asian American Group in Las Vegas, an umbrella organization of leaders from Asian cultures that works to educate and foster cooperation among Southern Nevada's Asian communities.
Sonny Vinuya, president of Las Vegas' Asian Chamber of Commerce, attributes the lack of participation partly to cultural differences.
"Some who came from other countries do not believe they have a voice," he said. "They're not used to being engaged in politics from the country they come from."
It's a culture of "don't rock the boat; let's just get along," that has been passed down through generations, he said.
But that mindset is slowly changing.
"The people that I see who are really involved in it are the Asians who have grown up here," Vinuya said.
Asian engagement is also complicated by the diverse subgroups that have varying interests.
"My dream is for us to get together … all of us should really work together to work on issues or business that affect our community," he added.
State Sen. Mo Denis, D-Las Vegas, said statistics alone don't tell the whole story.
"We've come a long ways," said Denis, whose parents came to the United States from Cuba. Denis was Democratic majority leader in the state Senate in 2013, a milestone achievement for Latinos.
When he was first elected to the Assembly in 2004, he was one of only two Hispanics in the statehouse, along with then-state Sen. Bob Coffin. In the 2015 session, there were nine.
"Even though our numbers don't reflect where we need to be, our ability to get things done has improved," Denis said. "We're making progress."
Denis said getting the Hispanic community involved in politics, from local school board races to county and city government and the state Legislature, is a continuing process.
"We've been working very hard for many years," he said, adding that the focus is broader than getting minority members elected to office.
"We don't just want people who are Hispanic," Denis said. "We want them to be the best who are out there.
"As a caucus, we continue to do events. It's important for Hispanics to get out and vote," he added, "let them known their vote really does matter."
Those efforts, to encourage engagement and affect policy, are paying off, he said.
He cited driver privilege cards approved by the 2013 Legislature and signed by Gov. Brian Sandoval — Nevada's first Latino governor — allowing immigrants who are in the country without legal permission to drive legally in the state.
Zoom schools, an education initiative launched in 2013, provides additional funding and resources to schools with high percentages of students who speak English as a second language. In the first year, $50 million was allocated, most going to schools in Clark County. An additional $50 million was approved for the program last year.
"Those things are important to our community," Denis said.
Vaswani said Asian leaders remain active by keeping their communities informed and by arranging events and forums and inviting candidates and elected officials.
"It's a growing process," she said. "I think in time … this is a very crucial process for our state.
"We're aggressively going and registering our Asian communities to vote," Vaswani said. "They are understanding the process now, and thinking about their future and their children's future."
Contact Sandra Chereb at schereb@reviewjournal.com or 775-461-3821. Find @SandraChereb on Twitter.