Desert Shores lakes, Red Rock Canyon offer escape for Summerlin-area residents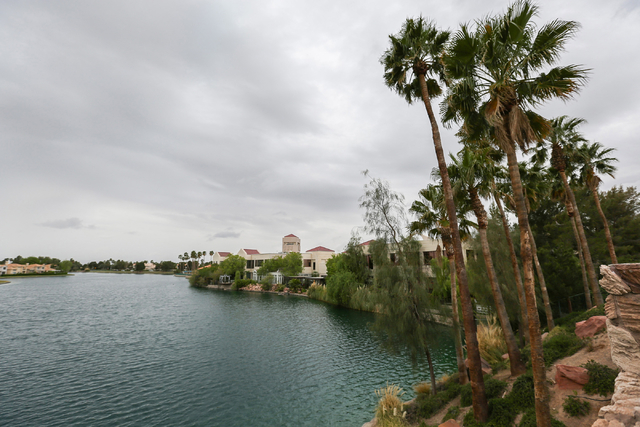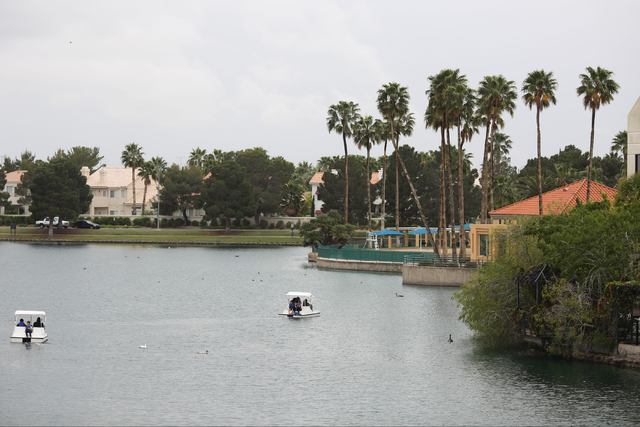 Where can you go in Las Vegas that can tease your senses into thinking you're not in Las Vegas?
That's a no-brainer question for those who live in or near Summerlin. They benefit from being on the fringe of Red Rock Canyon National Conservation Area, as well as near the four man-made lakes that help make up Desert Shores.
LAKE JACQUELINE
Think there's no place in the desert to sit by the water and enjoy watching swans drift past? Think again.
Lake Jacqueline at Desert Shores — bordered by Rampart Boulevard to the west, Cheyenne Avenue to the north, Buffalo Drive to the east and Lake Mead Boulevard to the south — offers a relaxing getaway spot. It's one of four man-made lakes for Desert Shores residents to enjoy. But non-community residents also are welcome to stop in and enjoy the view and watch the ducks and geese and other wild waterfowl near the corner of Mariner and Regatta drives. Just be respectful: Don't disturb the nesting swans as they sit on their oversized eggs, and don't feed any of the wildlife.
Many people agree it's a little corner of town that doesn't feel very "Vegas."
"I get that all the time — hear that frequently," said Cary Brackett, general manager of Desert Shores. "Anybody in the valley can buy in here and receive this high-end amenity (lakeside living). … We're unique in that we have four (lakes). They're all accessible if you want to drive by and look at them. We're not a gated community, and if somebody wants to walk down the sidewalks, which are public, great."
Brackett asked that those who do stop by follow the community's rules: Keep your dog leashed; do not fish in the lakes or go boating; and do not feed the waterfowl.
"That's very important, no feeding the ducks," Brackett said. "It's so frequent we get people driving by with huge bags of bread crumbs. It's bad for the ducks — makes them aggressive — and it's a bad diet. So please, just enjoy them; don't feed them."
Visit desertshores.org.
FRENCH FOOD FAR FROM FRANCE
Want a less-close encounter with Lake Jacqueline's peacefulness? Sip wine while enjoying the water at the Lake Jacqueline, overlooking Marche Bacchus French Bistro and Wine Shop, 2620 Regatta Drive, Suite 106. Along with the restaurant's French and Mediterranean menu, the accompanying wine shop has more than 950 labels of American and international wines for sale, along with wine-educated staff members to help with decisions.
Visit marchebacchus.com or call 702-804-8008.
But Marche Bacchus is not the only eatery where your brain can be hijacked into thinking this is not Las Vegas. A visit to La Belle Terre Bread, 8390 W. Sahara Ave., is like stepping into a French bakery. The menu pays homage to various regions, from Provence to Normandy, with traditional pastries and signature crepes and quiches. It even plays European music, so if you speak French or Italian, you might be tempted to sing along.
Visit labelleterrebakery.com or call 702-685-7712.
RED ROCK CANYON
If anything is the direct opposite of the flashy, man-made Strip, it's the calm and beauty of the Mother Nature-made rock formations at Red Rock Canyon National Conservation Area. It's practically in the backyard of most Summerlin residents, just a short drive west down Charleston Boulevard.
Summerlin-area resident Chelsea Smith likes to take her daughters, ages 5 and 11, there.
"(It is) the most peaceful spot close to Vegas, but you feel like you're not in Vegas because there's not all the lights and the sounds and the noise," she said. "It's just serene. My girls love going there. We take the bikes and try to do the loop, but we never get very far with two little ones. It's a surreal experience being out there. I love Red Rock. And the climate, the temperature change, is awesome."
She said it is not unusual for her to visit every couple of weeks.
"It's a way to get away without a getaway," she explained.
Steve Leslie, a wilderness specialist with the Bureau of Land Management's Las Vegas Field Office, oversees 13 wilderness areas. He said Red Rock Canyon is popular with both residents and visitors to escape Las Vegas' concrete structures.
"I think it's a jewel. It's awesome," he said. "It also gets a lot of visitation — more and more each year, record-setting visitation — but it's manageable."
Visit redrockcanyonlv.org or tinyurl.com/2bqtqv.
AREA PARKS AND TRAILS
Summerlin's parks and trails also make for a mini-getaway and are likely the best places in Summerlin to have a picnic. Gardens Park, 10401 Garden Park Drive near West Desert Inn Road and Hualapai Way, is a favorite of many for its seclusion and distance from traffic noise and congestion.
For those looking for light recreation, the Ward 2 Walkers group meets at 7 a.m. Tuesdays and Thursdays at the Hualapai Trailhead Park, just north of Alta Drive on Hualapai Way. Join Las Vegas City Councilman Bob Beers for exercise and conversation. The group is free and open to the public. Call 702-229-2144.
Hiking one of the arroyos can also be a nature trail experience. A good place for such a hike starts at Pueblo Park, hidden at the southwest corner of Lake Mead Boulevard and Buffalo Drive. The trailhead is at the westernmost point of the park, and the trail goes under Pueblo Vista Drive with a wide tunnel, so one is never at ground level (you'll likely see some rabbits and chipmunks).
Visit summerlink.com/parks.
To reach Summerlin Area View reporter Jan Hogan, email jhogan@viewnews.com or call 702-387-2949.