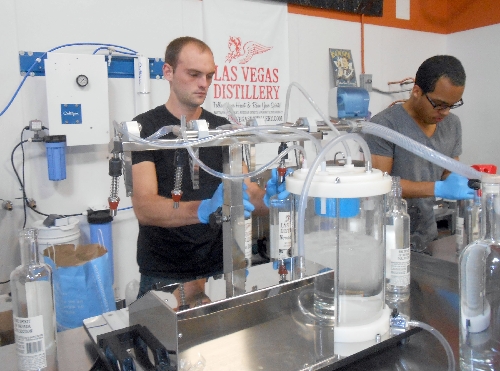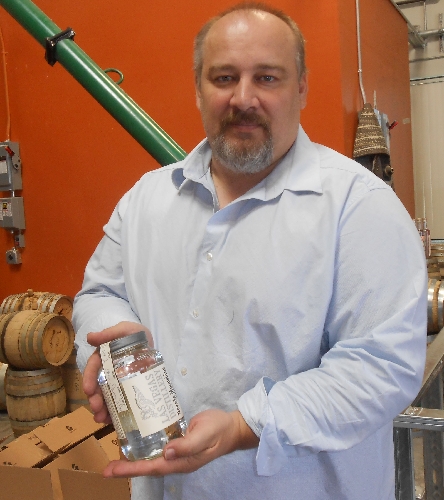 For George Racz, the glass – or in his case the bottle – has always been half full.
Despite a rocky year when his distillery nearly shut its doors, he has managed to see his dream come true of finally being able to sell his manufactured spirits.
"I am a very optimistic person," said Racz, founder of the Las Vegas Distillery. "But we were a couple days away from closing our doors this year."
With the creation of Booze Brothers Beverage and Half Full store, the distillery was saved and now offers locally-made alcohols at 12 stores in town, including Total Wine & More and Lee's Discount Liquor.
Racz moved to Las Vegas in 2008 with the hopes of opening its first distillery. He set up shop at a warehouse at 7330 Eastgate Road in Henderson and began distilling in February 2011 to create homemade vodkas, whiskeys, rums and gins.
He even concocted rumskey, a mixture of rum and whiskey.
The company had been struggling, though.
Racz said Nevada has a three-tiered process in which a manufacturer sells to a wholesaler and the wholesaler sells to a retailer. Racz, as a manufacturer, was prohibited from selling on site.
At the 2011 session of the Nevada Legislature, Racz was hoping that Assembly Bill 542 would pass, outlining new conditions for licensing and operating distilleries in Nevada. The bill passed the Assembly but wasn't able to pass the Senate before the session ended.
Racz had no way of directly selling his product or even offering tastings as he had envisioned.
Racz said he used a bigger distribution company, but sales weren't picking up.
Just when things seemed dire, a friend, Justin Wallin, approached Racz about creating a distribution company, Booze Brothers Beverage, specifically for selling Las Vegas Distillery products.
Fenced off in the back of the warehouse is a space leased for Booze Brothers, allowing Racz to transport the bottles into the space before Booze Brothers ships it to retailers.
Christian Escobedo, now owner of the Half Full store, is also a mixologist in Las Vegas. He toured the distillery with the Bartenders Beverage and Dispensers Union Local 165.
"I fell in love with the place," Escobedo said. "I knew I wanted to do something with it."
Escobedo later approached Racz about experimenting with some of the distillery's products in his mixes, which Racz was happy to assist with.
A partnership formed and Escobedo was brought in to run the retail side of the company, bringing his experience and ideas to the table.
"Before, when we started, it was just my family," Racz said. "Now we have brought many more families in."
Racz is ready to put the year behind him and move forward.
"This year was about surviving," Racz said. "But 2013 is about inviting the community, connecting with more manufacturing companies and connecting with more people."
Racz said another bill is slated to go before the upcoming legislative session that would define what the distillery could do in the state.
In February, Racz wants to start a whiskey-making class where people can spend a day learning and making their own whiskey.
Racz plans to approach companies, such as Ethel M Chocolates, to see if they would consider using the distillery's products in some of their liqueur-based chocolates.
Tours are available, but Racz wants to promote the facility to become a tourist destination in 2013.
Escobedo wants to figure out a way to offer mobile samples and drinks.
"We are now just seeing what it takes to do that," Escobedo said.
Racz even has plans for 2014.
More than a year ago, Racz said Gov. Brian Sandoval came to the distillery and helped create what will be bourbon. Racz said the drink needs to age about three years.
"Longer is better, of course," Racz said.
Racz said the batch should be ready in time for Nevada's 150th anniversary in 2014.
"We hope to have 150 barrels for the 150th year," Racz said. "It would be Nevada's first straight bourbon."
The Half Full store is open from 10 a.m. to 6 p.m. Monday through Friday.
Tours are available at the distillery, next door, from 9 a.m. through 4 p.m. Monday through Friday.
For more information, call 702-629-7534 or visit lasvegasdistillery.com.
Contact Henderson/Anthem View reporter Michael Lyle at mlyle@viewnews.com or 702-387-5201.