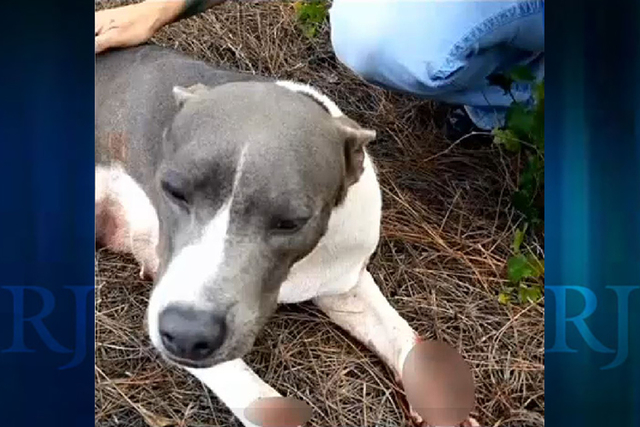 A dog was put down Saturday after a case of animal abuse. People called it the worst case of animal abuse they've seen in the area.
The staff at the Gulf Coast Humane Society in Clewiston, Fla., believe the dog had been dragged for several blocked behind a vehicle. The dog's paws were ground to the bone, exposing marrow in some places.
The female pit bull mix went into the humane society around 12 p.m. Saturday, sedated and still bleeding from the injuries.
"Very painful to see that someone, like I said, there was no doubt as to what'd happened. She'd been physically restrained and pulled behind some type of vehicle," chief veterinarian at Gulf Coast Humane Society Jeanette Barnes said.
The dog showed signs of being dragged from a collar and muzzle. Physicians put the dog down within an hour of her showing up. If she were to survive, Barnes says she'd require several amputations and constant care.
The staff at the hospital named the dog "Aliyah" — which is Hebrew for rising to the heavens. According to authorities staff stayed with her until she passed at 1:32 pm.
Investigators on Monday were looking for Aliyah's litter of puppies she recently had.
Since Saturday, citizens have donated just over $1,600 in reward money — in addition a reward of up to $5,000 is being offered from Stop Illegal Dog Fighting Gofundme account and $1,000 is being offered by Southwest Florida Crime Stoppers.