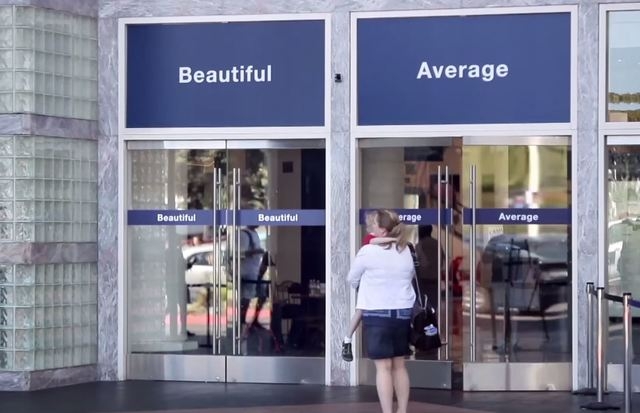 Dove's latest ad campaign is asking women to choose beautiful.
The beauty product company set up entrances labeled "average" and "beautiful" in cities around the world.
Women who walked through the entrances in Shangai, London, Sao Paolo, Delhi and San Francisco unfortunately chose to quickly and quietly walk through the "average" entrances.
The latest in a recent flux of inspiration-via-advertising campaigns, the body positive #ChooseBeautiful campaign wants to change the way women think about themselves.
"Women make thousands of choices each day — related to their careers, their families, and, let's not forget, themselves," Dove said in a statement. "Feeling beautiful is one of those choices that women should feel empowered to make for themselves, every day."
The campaign follows #SpeakBeautiful, an effort debuted by the company during the 2015 Academy Awards. The campaign focused on reversing the damage of negative tweets.
Some women hesitated or second guessed their decisions, and some were confident.
"It was quite a triumphant feeling. It was like telling the world, 'I think I'm beautiful,'" a woman says in the campaign.
Check it out below.
Contact Kristen DeSilva at 702-477-3895 or kdesilva@reviewjournal.com. Find her on Twitter: @kristendesilva