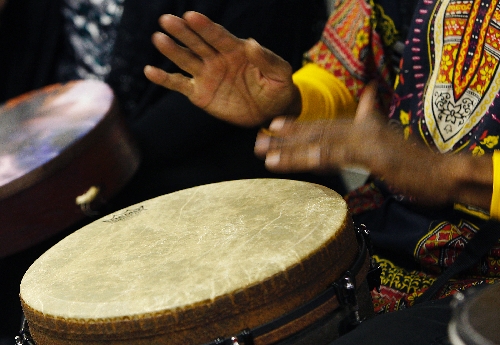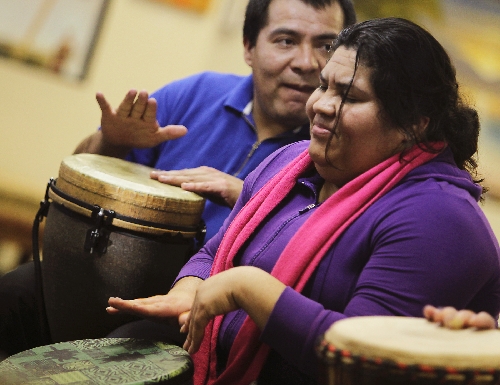 Every time a life-threatening illness tried to slow Idris Hester's gait, he beat back.
Four brain tumors in as many decades were formidable foes, he found. Hester endured invasive neurosurgeries, each one returning a benign result.
"I kept hearing I'd be disabled, handicapped or dead," Hester said of the time and his tumors.
"I'm so ready to share my experience."
Through it all, the 51-year-old Centennial Hills resident tapped into and fostered his lifelong love of drumming. The experience moved him to create a program — a drumming language of sorts — called Drummunication.
Now as a guest facilitator for Music 4 Life, Hester is teaching his "language" and sharing his experience via regular, therapeutic drum circles around the valley. Hester traveled the world studying different types of percussion and formed Drummunication as an amalgamation of styles.
"That process is about perfect health, wellness and healing for wholeness in spirit, mind and body," he said. "Different cultures use drums for wellness and wholeness, and I thought, 'Why aren't we doing this here?' "
Hester believes music therapy aided his recoveries, and he has seen it bring clarity to those with alcohol and substance dependencies, depression, heavy stress and beyond, he said.
Hester discovered drumming around age 8 in his native Jackson, Mich. He was one of 11 children and excelled at sports, community involvement and played "in everything" from marching, concert and jazz bands to full orchestras and church each Sunday through college, he said.
Hester was diagnosed with his first brain tumor in the late 1970s. It was removed at a University of Michigan medical center, and Hester was sent off with a positive prognosis.
He relocated to Los Angeles and made a living as a civil electrical engineer and alcohol and chemical abuse counselor, traveling and drumming along the way.
But more health woes lay ahead.
Tumors were discovered and removed in 1981, 1998 and 2011. Each surgery was risky and could have crippled him, he said. But he survived, and each tumor tested benign.
"Just the fact that it repeated itself is almost cancer," Hester said. "But what I discovered from the surgeries (is that) they weren't a curse, they were a gift."
He was determined to show people that "no matter what disease they have or what health challenge they have, they can still have a happy life," he said.
He became a certified health rhythms facilitator and member of the Agape Drum Ministry and International Spiritual Center, where he is a practitioner and ministerial student.
He earned the nickname " Miracle Man " for overcoming his own "terminal" health issues.
Despite success in Los Angeles, Hester said he felt compelled elsewhere. In early 2011, he attended a New Age trade show in Denver and crossed paths with Judith Pinkerton, music therapist and founder of Las Vegas-based Music 4 Life Inc.
"I was so happy and excited," Hester said. "Somebody 'got' me."
Hester moved to Las Vegas shortly after.
"I got clear my purpose was to come here to share my experience, strength and hope," he said.
Pinkerton said she felt instant synergy with Hester and brought him on board with Music 4 Life's prevention and wellness programs. The organization hosts one to three drum circles a week that are open to the public, for all ages and abilities, Pinkerton said.
The drum circles cater to those ranging from at-risk populations to those with disabilities, ailments or behavioral issues, she added. Drum circles for families are hosted , too. Fees vary.
The program is sponsored by Remo Inc. drum specialists, and Hester was trained by the company.
Pinkerton said Hester's presence with the program already has produced positive results.
"Idris has a magical effect in drawing people in to feel comfortable with themselves and with each other," she said. "He truly is one of a kind."
Hester is tumor-free today and has been given a clean bill of health.
"I get to live," he said. "I get to continue to live and I get to share this gift and talent. Once you come to one of these circles, your life will never be the same."
For more information, visit drummunication.com, drumcircleslasvegas.com or music4life.us or call 889-2881.
Contact Centennial and North Las Vegas View reporter Maggie Lillis at mlillis@viewnews.com or 477-3839.