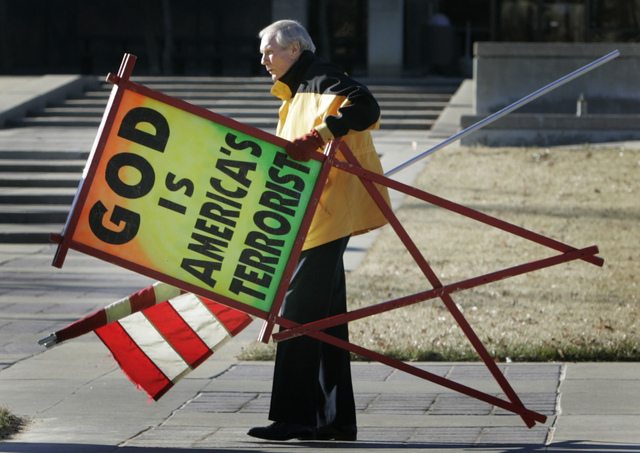 Last month Fred Phelps faced his maker.
He founded the controversial Westboro Baptist Church, known for picketing the funerals of soldiers.
In the Phelps theology, God condemned all of America for enabling homosexual behavior. Soldiers who defend the country therefore were contemned to hell. His church carried signs at the funerals that said "God Hates Fags" and "Thank God For IED's."
He said: "You can't believe in the Bible without believing that God hates people. He hates the sin, and he hates the sinner. He sends them to hell."
As a priest I've performed a lot of funerals and I've always taken some comfort in the prayer in which I face the body or the remains and say:
"Into your hands, O merciful Savior, we commend your servant. Acknowledge, we humbly beseech you, a sheep of your own fold, a lamb of your own flock, a sinner of your own redeeming. Receive him into the arms of your mercy, into the blessed rest of everlasting peace, and into the glorious company of the saints in light."
Fred Phelps went to the grave a man of hate and IMHO so dreadfully wrong about the nature of God.
I may have had to silently add this to that prayer:
"And while you're in the glorious company of the saints, best of luck explaining your dime store theology, buddy."