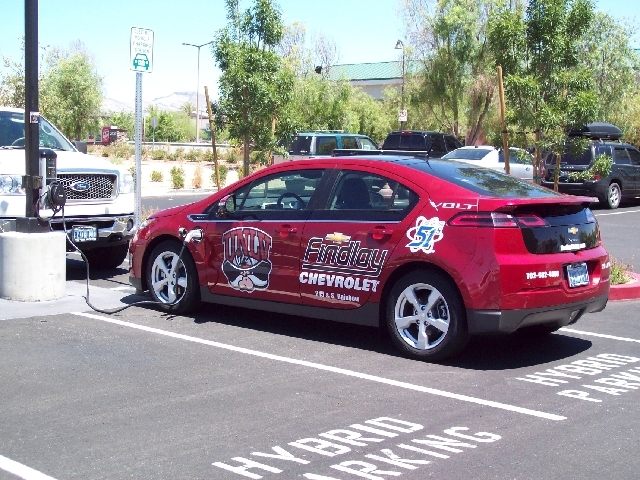 Net zero energy is a term that has become more popular with green homebuilders in recent years as architects strive to create living environments that create as much energy as its residents consume. Plug-in electric cars have a key role to play in this type of ecology, as well.
The University of Nevada, Las Vegas recently fielded a multidisciplinary team of students who have been studying architecture, engineering, materials science, homebuilding, chemistry, biology and business. They will be combining their talents to compete in a Solar Decathlon hosted by the U.S. EnergyDepartment this fall in Irvine, Calif.
The goal of the UNLV team is to create a sustainable home for the Mojave Desert that will be seen as a model for architects and designers in the Southwest. Their DesertSol project will eventually be used as a museum piece and sustainable living classroom at Springs Preserve to showcase designs that efficiently harvest abundant sunshine, as well as scarce water resources. The UNLV team website is solardecathlon.unlv.edu.
Jared and Heather Fisher have taken the idea of net zero energy even further to create the first business in Southern Nevada that will generate as much energy as it consumes. Las Vegas Cyclery sells bicycles and promotes ecofriendly touring adventures. The Fishers built their retail store from an energy-efficient design that minimizes the consumption of electric power and water. Grid-tied photovoltaic solar panels on the building's roof and a standalone wind turbine generate as much or more electricity than the amount consumed during daily business operations.
In addition to an extensive inventory of human-powered bicycles, Las Vegas Cyclery also sells motorized electric bicycles powered by onboard lithium-ion battery packs that are recharged from electricity generated by the building each day. Electric outlets are provided for customer use in the parking lot of the business, next to a Level 2 charging station that can be used to recharge plug-in electric cars visiting the business. A video tour of the Las Vegas Cyclery facility can be found at the company's website at lasvegascyclery.com.
Plug-in electric cars, with their much larger battery packs, can become an integrated part of a home power system. Just like any other electrical appliance, a plug-in electric car draws energy from the electrical grid while recharging, but also can store that energy for use by other home appliances during an emergency situation.
In March 2011, an earthquake and tidal wave devastated Fukushima, Japan, and the country's nuclear power grid. Japan's automotive manufacturing industry also was deeply affected.
The following year, Nissan Motors partnered with Nichicon Corp. to launch a "Leaf to Home" backup power supply system from all of Nissan's Japanese dealerships. The Nichicon EV Power Station can harness the 24-kilowatt-hour lithium-ion battery pack within a Nissan Leaf electric car to provide 6 kilowatts of power to a Japanese home for as many as two days.
The optional quick charge port on the Nissan Leaf can be used as a two-way power system. The quick charge port also can provide direct current from the Nissan Leaf battery pack to the EV Power Station, where it is converted to alternating current to meet household appliance consumption requirements on demand.
If many electric cars are connected to the grid in this way, a utility might be able to employ a "peak shaving" technique that could buy back electrical power from parked electric vehicles through a smart meter system during times of peak load activity.
In April, BMW collaborated with the University of Delaware and utility NRG Energy to demonstrate a two-year research project called Grid on Wheels. The BMW Mini E is an electric version of the popular Mini Cooper that replaced a gasoline engine with an electric motor powered by a 35-kilowatt-hour battery pack. The research team linked together 15 of the BMW Mini E cars to the Delaware utility grid to create a virtual storage bank of 525 kilowatt-hours of electric energy, capable of delivering 100 kilowatts of electric power to the local utility on demand. This stored capacity could provide enough power for 65 homes during a period of peak activity. The Grid on Wheels project will add another 15 BMW Mini E cars to its fleet this year.
Electric cars can be more than just a mode of transportation if their owners can think outside the battery box.
Stan Hanel has worked in the electronics industry for more than 30 years and is a longtime member of the Electric Auto Association and the Las Vegas Electric Vehicle Association. Hanel writes and edits for EAA's "Current Events" and LVEVA's "Watts Happening" newsletters. Contact him at stanhanel@aol.com.