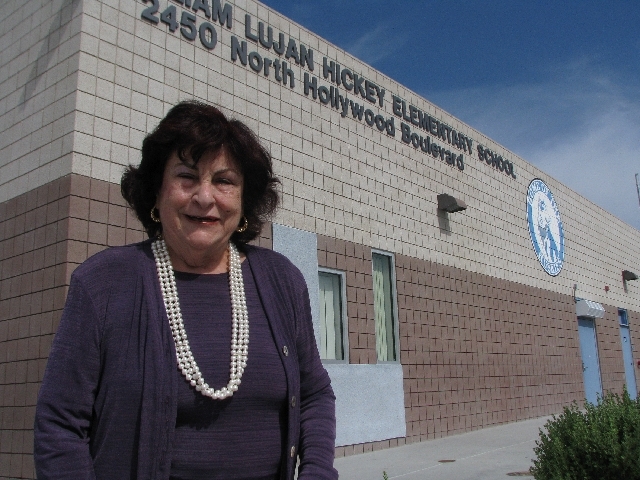 Among the things Liliam Lujan Hickey is known for are being the first Hispanic woman elected to the Nevada State Board of Education and helping to create the Classrooms On Wheels, a program that brought parenting and preschool programs to at-risk families on school buses painted in a Holstein cow pattern.
It's not surprising to some that Liliam Lujan Hickey Elementary School, 2450 N. Hollywood Blvd., was named in her honor. What may be surprising is the path that led her to become an activist and an advocate for the disenfranchised.
Lujan Hickey was born in Cuba in 1932, and at 16 she met and soon married Enrique Lujan, a man 12 years her senior. Lujan was an Olympic weightlifting coach, owned five casinos and a gym in Cuba and provided her with a life of luxury with a big house and servants.
"I didn't know how to cook or anything," Lujan Hickey said. "We had a chauffeur, so I didn't drive."
All that changed in 1959 after Fidel Castro came to power. Overnight a profitable business bolstered by ties to organized crime became a liability, and the Lujans and their three children were in danger. They moved around the island to avoid notice and had bodyguards, but Lujan soon decided he needed to protect his family by leaving Cuba.
"Castro came in December of 1958. We left on Dec. 12, 1960," Lujan Hickey said. "When we're on the plane, Enrique had a folding knife. He told me that if the communists came to take him, I should stay on the plane and take the children and go without him."
The Lujans made it away with little more than the well-tailored clothes on their backs.
The family traveled across the country by Volkswagen bus to San Diego, where the once-powerful casino owner became a groundskeeper taking care of a football field at a school.
Enrique spoke English, but although Liliam spoke six languages, English wasn't one of them. However, one of her languages was Latin, and that got her into the Scripps Clinic in La Jolla.
"I showed up in my tailored suit that I still had from Cuba, and I think that helped me get the job," Lujan Hickey said. "We had to use the dictaphone and the IBM machine (typewriter), and I didn't even know how to type. I told them to give me a chance and I will learn, and I did. Eventually I established the interpretative department at the Scripps Clinic."
Lujan Hickey was delighted with the patience of her bosses and the kindness of her co-workers. Her children dressed in hand-me-down clothing from the people she worked with.
Her husband got a job in Las Vegas at the Mint Casino through his old mob friends, to whom Hickey referred in an oral history conducted in 2010 and published that same year by the University of Nevada, Las Vegas, as "the big gangster guys that are in the books in 'Green Felt Jungle.' " "The Green Felt Jungle" was a book by Ed Reid and Ovid Demaris that chronicled organized crime in Las Vegas.
Lujan Hickey came to Las Vegas in 1964 and had her fourth child. In 1972, Enrique Lujan died of complications from diabetes at age 52.
Again she found herself restarting her life. She became a U.S. citizen to get the job she wanted.
"I got a job at the (Nevada State) Welfare Department because that was work I believed in," Lujan Hickey said. "I worked there for 25 years and retired. I started as a social worker and ended up as an eligibility supervisor. I established the 'Seek Work' program that was a community work experience program."
While Cuban refuges were fleeing in tiny boats to Florida seeking freedom, Lujan Hickey worked with B. Mahlon Brown III, director of Clark County Legal Services, to give Cubans a better shot at welfare and citizenship.
She learned the city and the need of its people and started working on things she felt would improve the community. She worked with the Latin Chamber of Commerce, becoming the organization's president.
"I started Career Day for the Latin Chamber of Commerce," Lujan Hickey said. "I was regional chair of the United States Hispanic Chamber of Commerce. I traveled all over the country. I was president of the (United States Hispanic Chamber of Commerce) Foundation and left it with over a million dollars (in its coffers).
In 1981 she married Tom Hickey, a state assemblyman at the time. That was also the year she said she became an activist. She ran for the Nevada State Board of Education in 1988 and was on the board for 12 years. She was the first Latina to be elected to that board.
"My faith in this country was through education," Lujan Hickey said in the 2010 oral history. "I love the United States to the point that I thought if I can bring them something of me, I think education would be the thing."
Principal Wanda Renfrow took the reins of Liliam Lujan Hickey Elementary School in August 2012 when the previous principal retired. She said Lujan Hickey is an active part of her school's community and the students are delighted when she visits.
"They line up to give her high-fives," Renfrow said. "They know a lot about her. There are four display cases about her at the school."
Renfrow said Lujan Hickey is always a welcome visitor to the school and a participant in reading programs and other special events.
While many of the namesakes of Clark County schools have little or no connection to the neighborhood in which their school is located, Lujan Hickey said that while on the Nevada Board of Education, she pushed to have the complex of three schools covering all grades built in the Sunrise Manor neighborhood.
"I wanted to establish a community in that area," Lujan Hickey said. "I call it my little village."
Contact Sunrise/Whitney View reporter F. Andrew Taylor at ataylor@viewnews.com or 702-380-4532.
Naming Las Vegas
The history behind the naming of various streets, parks, schools, public facilities and other landmarks in the Las Vegas Valley will continue to be explored in a series of feature stories appearing in View editions published on the first Tuesday of every month.
If you're curious about how or why something got its name, post a comment on our Facebook page, www.facebook.com/viewnewspapers, or email sblust@viewnews.com.
Thanks for reading View.