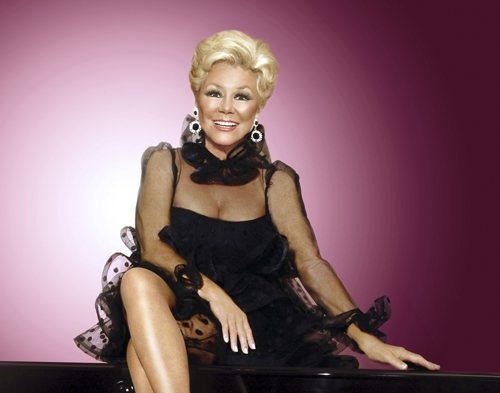 Today's paper covers the basics of Mitzi Gaynor's long-delayed return to Las Vegas.
But the 80-year-old star speaks at a stream-of-conscious clip, and a 40-minute phone chat yielded many more observations and anecdotes to pave the way for "Razzle Dazzle! My Life Behind the Sequins" Friday through Sunday at The Orleans.
On the new show:

"I talk about my life, my love, my happiness, my show business life, how I met Jack (Bean, her late husband and manager), how I got 'South Pacific' and (about) Rossano Brazzi and Ethel Merman and Marilyn (Monroe) — who was a very nice girl by the way, did you know that?
"She was a very nice girl and she was having a very difficult time when we did 'No Business Like Show Business,' because she was in a nest of vipers. Everybody in the show was an old vet. Ethel Merman, Donald O'Connor … we started all of us on the stage, we were experienced. Here she came and I think we scared her a little bit. But I honest to God, I think she might have stolen the picture. …
"I do 18 songs and some hopefully amusing (stories). I used to say, 'God I wish I was as funny as I think I am.' There's some drama, a little drama.
"I don't do much (dancing) because my knee is killing me. I had, I call it 'high-colonic surgery' on my knee not too long ago and it's giving me fits.
"Our bodies are our tools dahh-ling, how can one do without our parts?"
On her first Las Vegas show, at the Flamingo in 1961:

"First of all, we were very secretive about it. Nobody could come into rehearsals. Everybody was kind of kept quiet, because nobody was supposed to know what was gonna happen and so there was a big surprise.
"We went to Hot Springs, Ark., to break in. I was so scared. My change room was the top of a fire extinguisher. I had my mirror and my powder puff on top of that. We perspired so much they kept bringing water back to us.
"Owney Maddon (the underworld figure most famous for New York's Cotton Club) owned the place, and came backstage and said he'd never seen anything like that since the Cotton Club.
On Las Vegas and her annual TV specials:
"I kind of created, in '61 when we opened at the Flamingo, that whole look (of the female headliner variety showcase).
"Every year we had a fresh Las Vegas show. Bob Hope said you have to do television and you have to go on the road. …
"Whatever I did, everybody else (copied). A choreographer would do a show for me and then he'd call: 'Guess who I'm doing now?' They'd just try to do my act. But you can't, because we're all individuals. …
"It used to be so much fun. Everybody was there and we all used to love each other and carry on. …
"A place we used to go to was the pizza lounge (not sure if this was the proper name of a noncasino restaurant; it might have been the old Tower of Pizza). We would go in there and attack. The poor cook would have to rest up. We would attack like wolves, we would be so hungry."
On Frank Sinatra and filming "The Joker is Wild":

"He couldn't be more marvelous. Hey listen, we didn't have to be at work until 10 in the morning and we finished at 7 and all went out to dinner."
(Gaynor remembers being asked to come in for an audition interview with Oscar Hammerstein for the "South Pacific" movie. But it conflicted with a "Joker" shooting day that happened to be a casino scene with lots of extras. Sinatra walked by her dressing room and asked why she was so glum.)
"I have a chance to sing for Oscar for 'South Pacific,' but I can't because it's Thursday and we're doing the big casino scene.
"He said, 'Sure honey, we'll shoot around you. You go get the job.'
(When she came back, all Sinatra wanted to know was, "What did Oscar say?") "But all he said was, 'Thank you Miss Gaynor, you've been a wonderful sport.'
"Frank said, 'What's everybody doing standing around? Aren't we in a movie? That's too bad, baby.'
(But of course she got the role of Nellie Forbush, the biggest of her career.)
On the continued lure of performing live:
"Just think about how thrilling this is. There are people out there, and they came to see you. And the overture starts and that's your music and you're going to go out there. It's like a play date: 'C'mon, lets have some fun together.' Because once we get you in that room and the doors are closed, nobody's going to hurt you — but me."