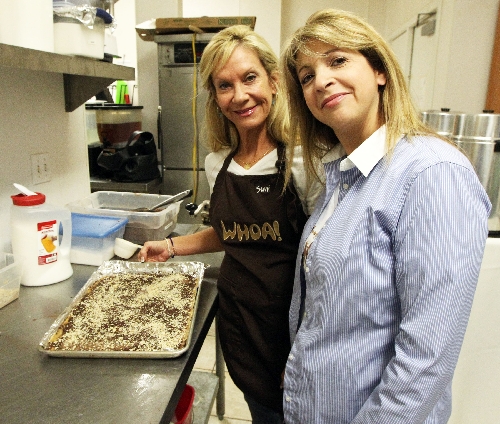 For years, Suni Erlanger's children told her she should sell her toffee, made from her own recipe. It took the death of one of them for her to take that leap of faith.
Erlanger's son, Army Spc. Douglas J. Green, 23, was serving in Afghanistan when he was killed in the line of duty Aug. 28, 2011.
"He was two weeks away from coming home, coming home and getting married," she said.
She quit her ticketing job at Southwest Airlines and mourned his death alongside his fiancée.
"Of course, you're numb for six months, walking around like a zombie," she said. "And then it came to me. I know this sounds weird, but my son said to me, 'Make the toffee and send it to Afghanistan like you've done for me all these years.' And it was so clear, this is what I should do."
But Erlanger was at a loss as to how to start. She was more about creating candy than writing a business plan, securing a tax number and getting a patent.
Last March, she met Julie Littmann, who saw the value in the toffee, had a business degree and knew how to market such things. The two became business partners and secured an industrial kitchen, hired a marketing company and created a website, whoafoods.com.
Whoa! Foods' first product was the confection Erlanger began making 25 years ago, the toffee she gave away to family and friends each holiday season. Only now it was called Whoa! Toffee.
Ron Kirch, their media consultant, said he contacted a graphic artist to work up advertising pieces.
"(The graphic artist) said, 'What's the name?' " said Kirsh, "and I went, 'We don't know, but when everybody tastes it, they always go, 'Whoa!' And, within days, he came back with this (the logo)."
The business officially started May 1. Within a few months, the toffee was on the Internet and being sold in Las Vegas at farmers markets and small shops. A store in Virginia, where Erlanger is from, recently started carrying it.
Flavors include mint chocolate, dark chocolate with almonds, milk chocolate with peanuts, and butterscotch, with more being added all the time.
"I'll have flavor ideas come to me when I'm sleeping," Erlanger said.
A percentage of the price of each container sold benefits the Douglas J. Green Memorial Foundation founded in her son's honor, which was set up about the same time as the business. The foundation sends care packages to soldiers in the Middle East. Of course, those packages are topped off with bags of her toffee. Erlanger likened it to sending a little piece of home to the soldiers fighting over there.
Last month, a community effort set out to send 50 boxes to the troops. The effort actually resulted in 86 packages being sent overseas. The shipping fee was more than $1,200. The effort also required being at the post office for three hours, a small inconvenience considering how the gifts would affect soldiers' morale.
"It was amazing," Erlanger said. "Everything just came together, and I thought, 'This is what I want to be doing, make my toffee, give back to the troops and spread the joy to everybody. It's so rewarding … to keep my son's legacy alive."
Littmann said half the sales are website sales, being shipped to as many as 10 states.
"I think, like any business, it starts with friends and family," said Littmann, "but now we're getting orders from people we don't know, so it's definitely getting out there."
Whoa! had a booth at the Summerlin Art Festival and is carried at Rod Works, 10470 W. Cheyenne Ave. It is also available at the fresh52 Farmers & Artisan Market from 8 a.m. to 1 p.m. Saturdays at Tivoli Village, 302 S. Rampart Blvd., and the Las Vegas Farmers Market from 2 to 6 p.m. Wednesdays at Bruce Trent Park, 8851 Vegas Drive.
The two entrepreneurs liken the farmers markets to a retail store without the overhead and said it results in loyal customers – so loyal that when repeat customers couldn't wait for the next Saturday for their candy fix, Erlanger has been known to whip up a new batch and meet them at a halfway point to deliver it.
"I've met people at parking lots; it was like I was a drug dealer," Erlanger said.
The long-term goal is to get it into boutiques and specialty stores in every state. The business owners plan to add more food categories to the Whoa! Foods line in about a year.
Contact Summerlin/Summerlin South View reporter Jan Hogan at jhogan@viewnews.com or 702-387-2949.
Whoa! Toffee
For more information about Whoa! Toffee and the Douglas J. Green Memorial Foundation, visit whoafoods.com.