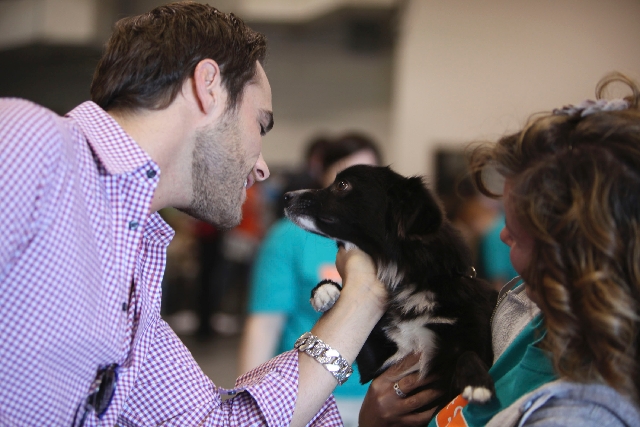 While these dogs were all unwanted or abandoned by their owners, people will pay thousands for them this month.
The Animal Foundation's 10th annual Best in Show is scheduled at 1 p.m. April 28 at the Orleans Arena, 4500 W. Tropicana Ave.
The event will feature more than 50 shelter dogs in six categories: small, medium, large, puppies, variety and special needs dogs — those with missing limbs or medical conditions. Dogs will be walked around the arena and judged by audience applause. All dogs will be available for adoption at the end of the show.
Doors for general admission are scheduled to open at noon, and seating for VIP sponsorship tables will open at 11 a.m. and includes a brunch and silent auction.
Tickets are $12 or $5 for seniors and children 12 or younger. They can be purchased at the Orleans box office, by calling 702-284-7777 or at orleansarena.com. VIP sponsor tables are available starting at $1,200. For more information, visit animalfoundation.com.
All proceeds will benefit the more than 45,000 pets that enter the shelter annually. Last year's event raised $220,000, said foundation spokeswoman Meghan Scheibe.
The foundation accepts any animal in any condition. Other than cats and dogs, Scheibe said she has seen horses, hamsters, goats, chickens, a bobcat and an alligator since starting at the foundation a few years ago.
The foundation, 655 N. Mojave Road, also has an open house and carnival scheduled from noon to 4 p.m. April 27.
Adoption fees typically are about $80 to $100 for cats and $105 to $250 for dogs, depending on the breed. Scheibe said the foundation will be offering adoption discounts April 26 to 28 with a goal of 200 adoptions during the three days.
Dogs up for adoption at the Best in Show event are bid on and usually cost more than the standard fees.
Scheibe said the foundation tries to present a good mix of different breeds at the event.
"We pride ourselves in finding something for everyone," she said.
All dogs also undergo a behavior evaluation before they can be entered in the show.
In the weeks leading up to the event, dogs are temporarily placed in foster homes to get accustomed to living with families. It also allows those foster families to learn the dog's personality and habits, which they share with the foundation for people interested in bidding on them at Best in Show.
Amber Throop has been fostering dogs for more than a year and has a miniature pinscher, Sasha, who will compete in Best in Show.
"There's a high need for it," Throop said. "You know you're making a difference in the animal's life. You get to actually see them progress and come to trust people again.
"It's pretty cool to see these shelter animals from all different backgrounds get to be on center stage for a day."
The foundation is seeking foster homes for other dogs. For more information and to apply, call 702-384-3333.
Contact View education reporter Jeff Mosier at jmosier@viewnews.com or 702-224-5524.