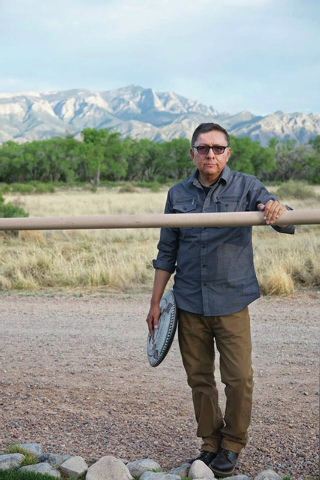 It may be hard to miss that Nevada is celebrating its Sesquicentennial this year. Nevada joined the union on Oct. 31, 1864, so as the yearlong celebration wraps up, some of the biggest events are planned.
Since the anniversary falls on Halloween, the line between Nevada Day and other celebrations can get blurry. The site nevada150.org lists all the remaining Nevada Sesquicentennial happenings, which can be sorted by northern, rural or southern events.
The following events highlight the range of ways the state is celebrating in Southern Nevada.
— "Always Lost: A Meditation on War" is scheduled to be on display during regular business hours through Oct. 27 at the Nevada State Museum at the Springs Preserve, 309 S. Valley View Blvd. The exhibit is sponsored by the Nevada Department of Veterans Services and includes original poetry by Nevada writers, the 2004 Pulitzer Prize-winning Iraq War combat photograph collection, courtesy of the Dallas Morning News, and the Wall of the Dead, faces and names of U.S. military war casualties in Iraq and Afghanistan since Sept. 11, 2001. Admission to the museum is $9.95 for adults, $4.95 for children and $8.95 for people 65 or older and those with a military or student ID. Visit tinyurl.com/nvstatemus.
— Nevadaween is scheduled from 9 a.m. to 1 p.m. Oct. 25 at the Old Las Vegas Mormon Fort, 500 E. Washington Ave. The event is set to celebrate Halloween and Nevada's sesquicentennial, with a pumpkin-painting contest, a costume contest, candle making, demonstrations of hand spinning and weaving, a duck race and more. Visit tinyurl.com/nvoldfort or call 702-486-3511.
— Get Outdoors Nevada Day is scheduled from 9 a.m. to 3 p.m. Oct. 25 at Craig Ranch Regional Park, 628 W. Craig Road. Community groups, nonprofit organizations, local, state and federal agencies and retailers, outfitters and outdoor event promoters are set to highlight outdoor events and opportunities in Southern Nevada. Visit tinyurl.com/gonvd or call 702-997-3350.
— If you planned on driving around downtown Oct. 31, you might want to rethink it. The Nevada Day Parade is scheduled to begin at 10 a.m. Oct. 31 on Fourth Street, going from Gass Avenue to Ogden Avenue. The parade is expected to last about two hours and feature entries from local civic organizations and businesses highlighting the sesquicentennial and the history of the Silver State. Visit lasvegasnevada.gov.
The parade is not to be confused with the fifth annual Las Vegas Halloween Parade at 7 p.m. Oct. 31, starting at the corner of 13th and Fremont streets and heading west on Fremont Street to Eighth Street, where an after-event is scheduled. Those in costumes who wish to participate should line up at Fremont and 13th streets beginning at 4 p.m. Visit tinyurl.com/lvparade2.
— The National Day of Remembrance for Nuclear Weapon Workers is scheduled from 10 a.m. to 2 p.m. Oct. 31 at the National Atomic Testing Museum, 755 E. Flamingo Road. The event honors the men and women who worked at the Nevada Test Site, now known as the Nevada National Security Site. Admission to the museum is free for Nevada residents on Nevada Day. Visit tinyurl.com/atom-muse or call 702-794-5151.
— A free day celebrating Nevada is scheduled from 10 a.m. to 4 p.m. Oct. 31 at the Springs Preserve, 333 S. Valley View Blvd. The facility and the Nevada State Museum will offer free admission during the event. Visit springspreserve.org or call 702-822-7700.
— Old Nevada Days at Tule Springs is scheduled from 1 to 4 p.m. Oct. 31 at Floyd Lamb Park at Tule Springs, 9200 Tule Springs Road. Visitors are invited to wear costumes depicting the state's history over the past 150 years or Western attire. The event is set to include ranch and harvest festival games and activities. Children are invited to participate in trunk-or-treat. Visit theranchlasvegas.com or call 702-885-1943.
— HopeLink of Southern Nevada, a nonprofit that serves as a family resource center, plans a celebration from 10 a.m. to 4 p.m. Nov. 1 at the Henderson Events Plaza, 200 S. Water St. The free event is set to include vendors, food, cake, entertainment and more. A concert is slated to run from 4 to 7 p.m. and include performances by Silver Sage, Crazy Chiefs and The All Togethers. The performance costs $10. Proceeds are set to benefit the nonprofit. Visit link2hope.org or call 702-566-0576.
— Civil War Days in the Battle Born State is scheduled from 9 a.m. to 6 p.m. Nov. 1 and 9 a.m. to 3 p.m. Nov. 2 at Spring Mountain Ranch State Park, 6375 State Route 159. More than 300 re-enactors are scheduled at the ninth annual event, which is set to include two battles daily, a period baseball game, a Civil War-era fashion show, a women's tea activity, a period church service, a President Lincoln speech and period field hospital tours. The event is organized by the Southern Nevada Living History Association. Visit snlha.org or call 702-354-6875.
— The Henderson Nevada Day Celebration is scheduled from 10 a.m. to 4 p.m. Nov. 1 at the Henderson Events Plaza & Amphitheater, 200 S. Water St. The celebration is set to include entertainment, food, vendors and children's activities. Call 702-331-9935 or 702-249-6149.
— As part of its ongoing Native American Visiting Artists Series, Gerald Pinto, a member of the Navajo-Dine Tribe in New Mexico, is scheduled to display and speak about his pottery from 10 a.m. to 2 p.m. Nov. 1 at the Old Las Vegas Mormon Fort, 500 E. Washington Ave. Visit tinyurl.com/nvold or call 702-486-3511.
— The Nevada Garden Club's annual fall conference is scheduled from 10 a.m. to 4 p.m. Nov. 1 at Lorenzi Park, 800 Twin Lakes Drive. The theme of the conference is Celebrate Nevada 150 Years, and UNLV professor and historian Michael Green is scheduled to speak. Visit nevadagardenclubs.org call 702-269-9631 or call 702-806-2949.
— The Hammargren Home of Nevada History, former Lt. Gov. Lonnie Hammargren's home and collection of historic and unusual artifacts at 4300 Ridgecrest Drive, is scheduled to be open to the public from noon to 5 p.m. Nov. 1 and 2. Donations for charity are requested.
— "From Fascism to Freedom: Remembering Kristallnacht," a commemoration with Holocaust survivors who live in the area, is scheduled at 7 p.m. Nov. 9 at Temple Beth Sholom, 10700 Havenwood Lane. Speakers are set to include local students and teachers who visited the death camps who will share their experiences with others. The event is also set to include videos of local Holocaust survivors talking about what brought them to Las Vegas and what it is like for them to be American citizens. Visit bethsholomlv.org or call 702-476-4631.
Contact East Valley View reporter F. Andrew Taylor at ataylor@viewnews.com or 702-380-4532.