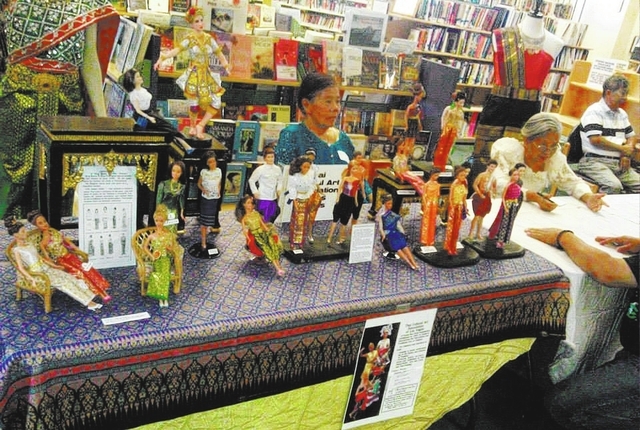 Henderson Libraries visitors can learn about Asian and Pacific Island cultures at the Asian Pacific Dream Festival.
The event is scheduled from 10 a.m. to 4 p.m. April 26 at the Green Valley Library, 2792 N. Green Valley Parkway. Admission is free.
Green Valley branch manager Stephen Platt said the festival, a third-time event for the library district, began with a focus on Hawaiian traditions and history. This year, the event is expected to be more expansive and include Asian cultures.
Planned activities include ukulele lessons, Japanese taiko drum lessons, Chinese martial arts and Japanese obon dance.
"We have Polynesian quilt dolls and shadow puppets," Platt said.
The district also plans displays featuring Japanese kimonos and kokeshi dolls, Hawaiian quilts, Thai dolls, Balinese shadow puppets, Hawaiian feather work and Kahiki feathers.
Traditional games, such as chunca from the Philippines, ulumaika from Hawaii and kendama from Japan, are expected at the festival.
Roseman University of Health Sciences is slated to offer free diabetes screenings from 12:30 to 1 p.m.
Charles Herring, an instructor with the NaHula ali'a Aloha Cultural Preservation, is organizing the Pacific Dream Festival in partnership with Henderson Libraries.
"We go around and educate folks about the culture," Herring said.
The Nevada Arts Council provided a $1,200 grant to put on the festival this year.
"I really hope people come out and take part," Platt said.
Platt said the library moved the festival from May to April in hope of drawing more people.
"We see a bigger turnout from the community at the end of the month," he said.
In addition to events, Platt said Henderson Libraries has a collection of material dedicated to Asian and Pacific Island cultures.
"We were doing our best to preserve the identity," Platt said.
In 2011, the library district received a $25,000 grant from the Institute of Museum and Library Services to allow purchases of the materials. The festival began in 2012 as a rollout for the collection.
"It's about 2,000 items," Platt said. "It's actually been fairly well used, especially the materials for children. That is a great age group who can benefit."
Platt added that people from Hawaii who want to teach their children about traditions and customs can use the materials to preserve the culture while living away from Hawaii.
But it's more than just childrens' books.
"I would say if someone wanted to do a college thesis on some topic in Hawaii, they would be able to do it here with this collection," Platt said.
For more information, visit mypubliclibrary.com.
Contact Henderson View reporter Michael Lyle at mlyle@viewnews.com or 702-387-5201.