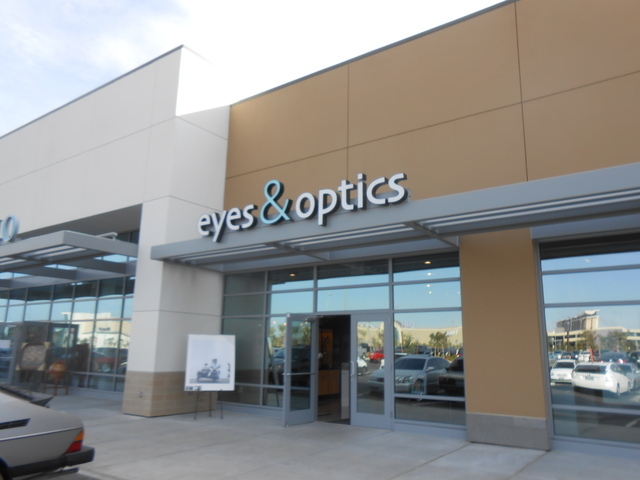 If you walk into Eyes & Optics at Downtown Summerlin, don't be surprised if you start to feel like a rock star. There's stage truss lighting overhead, black stage curtains and nightclub-worthy speakers playing hip songs.
It all speaks to the musical passion of Dr. Edward Malik, whose patients have included impressionist/singer Veronic DiCaire, Elton John, Celine Dion, Dion's violinist Philippe Dunnigan and members of The Commodores.
"I wanted it to look like a stage," Malik said of his office. "To me, optics, sunglasses, eyeglasses, rock and roll — it's all the same thing."
He has his own moments on stage. An optometrist by day, he's also a drummer in a local rock band, The Melancholics, by night. Besides Malik, band members are Talmadge Pearsall on vocals, Brian Lusk, Phil Chamberlain and Dwight Aguinaldo on guitar and Neil MacIntosh on horns. The group has been together since 1992 and is working on its fourth album.
Their live performances range from clubs and coffeehouses to appearances at The Joint at the Hard Rock Hotel, the House of Blues, the Palms and Fairplex in Pomona, Calif. The band also is making its way to the top 30 on the ReverbNation Rock Charts at reverbnation.com.
Aguinaldo said Malik uses his studious, serious side to handle the band's business arrangements.
"When he's playing, you can't tell he's a doctor," Aguinaldo said. "We meet every Friday night. Some people have bowling to keep them busy; some people have golf. We have the band."
Malik has always had music in his life. While still in high school, he built a working radio station in a backyard shed. He was involved in the Las Vegas Jazz Society and hosted a weekly jazz radio show from the Dunes Hotel on KUNV-FM. He also has recorded or performed with various groups, including Tomboy.
But being an optometrist has been his main occupation for more than 25 years. He opened at 2261 S. Rainbow Blvd. in 1987, a location he still has. For 15 years, he owned the Shade Brigade Sunglass Co. adjacent to the MGM Grand and Oculus Fine Optics in Caesars Palace. He's been recognized on the list of America's Best Optometrists and ranked as one of the Top 25 Optometrists in Nevada by the American Society of Healthcare Professionals.
Malik said he was pleasantly surprised when Downtown Summerlin reached out to him with the invitation to lease space. He chose a corner near Trader Joe's at the southernmost border of the shopping center, as Trader Joe's clientele fit the profile of those he serves. His space is 2,085 square feet.
He said he considers eyewear designs to be worthy of museums.
"That's art, not science," he said, pointing to one of the frames in the Ziggy by Cendrine O. line, sitting in a display case along one wall. "It's gorgeous. I sat with Cendrine for an hour and picked our pieces."
The frames may be created by Prada, Turu, Oliver Peoples, Vera Wang and Stella McCartney, but the store has a lab on site where the lenses are made.
Malik attended the Southern California College of Optometry at Marshall B. Ketchum University in Fullerton, Calif. He earned a Bachelor of Science degree in visual psychophysics and a Doctor of Optometry degree.
While studying pre-medicine and working at Valley Hospital Medical Center, 620 Shadow Lane, he met his wife, Lauren. They have two children. From his home, he operates Turtlehead Studio, producing music with The Melancholics.
For more information about Eyes & Optics, visit eyesandopticslv.com.
Contact Summerlin Area View reporter Jan Hogan at jhogan@viewnews.com or 702-387-2949.
The Melancholics to perform at Metropolitan Opera of Las Vegas benefit
Red Rock Life Magazine and Behind the Gates plan to to present the second annual benefit for the Metropolitan Opera of Las Vegas from 6 to 9 p.m. Jan. 15 at 11359 Winter Cottage Place, at the east gate of Red Rock Country Club. Elaine and Ted Fitzpatrick, UNLV music chair, are set to host the performance by The Melancholics with John Anthony and performances by the Metropolitan Opera of Las Vegas.
To RSVP, call 702-812-7085 or email behindthegates@n2publishing.com.