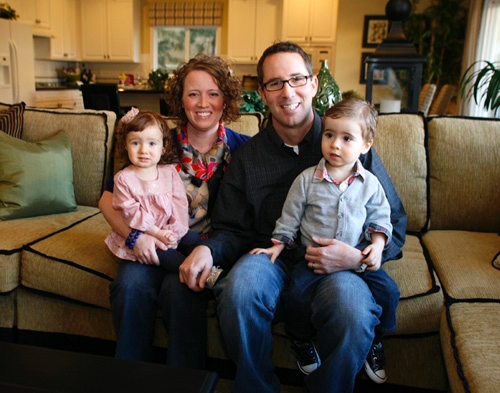 Suzanne Johnson knows a thing or two about good design. As the owner of SHE PAPERIE + design boutique, she designs and creates beautiful one-of-a-kind cards and invitations and maintains a popular blog. So when it came time for a new home for Johnson and her husband, Jeff, and their twin 2-year-old children, Elle and Liam, she chose a Pardee Home at Montclaire in Henderson.
"From a design perspective, the Plan Two at Montclaire was perfectly suited for us," Johnson said. "My business is based in our home so it was important to have a well-placed office and plenty of room for all of us."
Montclaire Plan Two measures 2,786 square feet with four bedrooms, three baths, island kitchen with walk-in pantry, great room, loft, den and two-car garage. Optional features include as many as six bedrooms and three-car tandem garage.
The design, it turned out, was also perfectly suited for Jeff, a history teacher at Coronado High School that is adjacent to the neighborhood.
"I get my own office, too, and a home that is walking distance from my job, which has been terrific," he said.
The University of Nevada, Las Vegas graduates carefully created their new home, working closely with Pardee options coordinator Carol Buckley.
"Suzanne is so in tune with design that she made it really fun for both of us and the end result was a new home that was perfectly designed for them, complete with a great office for her business," Buckley said.
Their children have their own special room as well: the upstairs loft that is a playroom for now with plans to convert it into their education center as they grow older.
"We discovered Montclaire initially by accident, but in reality I think we were destined all along to create and live in our new home here," Suzanne Johnson said.
Montclaire's seven floor plans range in size from 2,368 square feet to 3,959 square feet with as many as six bedrooms and four baths. Prices currently start from $273,950.
Located in Henderson, Montclaire is near established retail, restaurants, schools, houses of worship, medical facilities and other services.
All of Pardee's newly designed homes, including those at Montclaire, are part of the builder's LivingSmart brand, a program with standard and optional measures that boost energy efficiency, save water, improve indoor air quality and encourage material conservation and the use of recycled or sustainable resources in new homes.
To reach Montclaire, take Eastern Avenue south of St. Rose Parkway and turn right on Horizon Ridge Parkway. Follow Horizon Ridge west then turn left on Jeffreys Street. The entrance is ahead, on the left.
Pardee Homes' sales offices are open from 10 a.m.-6 p.m. Tuesday through Sunday and from 11 a.m.-6 p.m. on Monday.
For additional information, visit the sales office, call a new homes specialist at 604-3332 or visit www.pardeehomes.com/montclaire.
One of the West's largest and longest-established home builders, Pardee has built homes for more than 40,000 families in Southern Nevada since 1952.
For additional information, visit www.pardeehomes.com and follow the builder on Facebook at www.fb.com/pardeehomeslasvegas.