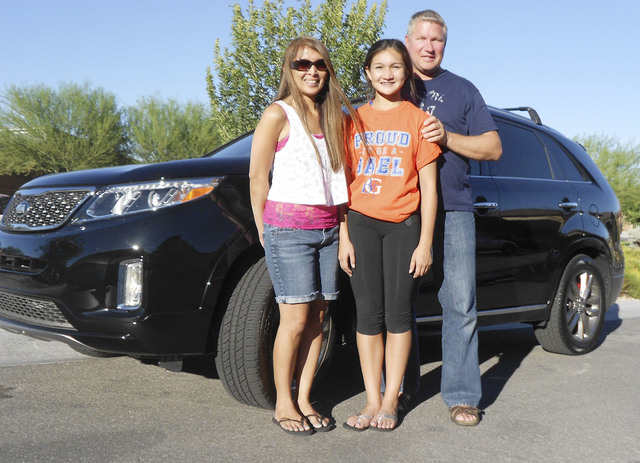 Mike and Sheilah Vollmer and their daughter Angelique said they were impressed with the Kia brand after seeing automobiles advertised on NBC's television show "The Voice."
The Vollmers were so impressed that after conducting research they bought a 2015 Sorento sport utility vehicle from Findlay Kia, 5325 W. Sahara Ave.
Sheilah Vollmer, the Sorento's primary driver, said she is thrilled with the performance of the 3.3 liter V-6 with a six-speed automatic transmission that yields about 21 miles to the gallon in city and highway driving. With the addition of traction control, the handling of the Sorento is considered top-notch.
"I really like the technology of the Sorento," she said. "The Bluetooth is awesome and I'm really impressed with the entire package that also includes the multimedia UVO (voice-operated) system that includes navigation and wireless hands-free cellphone usage."
The Kia Sorento's safety features were a big selling point, Mike Vollmer said.
"It has air bags completely all around the car," he said. "It has five-star safety rating along with dual front seat-mounted airbag in a seven-design."
With three rows of seating, there is plenty of room for the active family that is constantly on the run attending Angelique's dance, volleyball and basketball activities.
Kia offers a 10-year, 100,000-mile powertrain warranty along with five-year, 60,000-mile bumper-to-bumper warranty and a five-year, 60,000 mile roadside assistance.
The Vollmers praised Findlay Kia's staff for its service during the sale.
"It was a very quick transaction," Mike Vollmer said, praising sales agent David Shick. "They didn't pressure us at all and we appreciated that."
Findlay Kia is part of Findlay Automotive Group founded more than 50 years ago by the late Pete Findlay, whose son, Cliff, now leads dealerships in Utah, Nevada, Arizona and Idaho.
For more information, call 702-252-8900 or visit www.findlaykia.com.