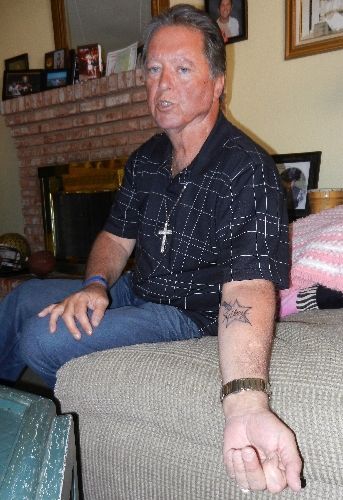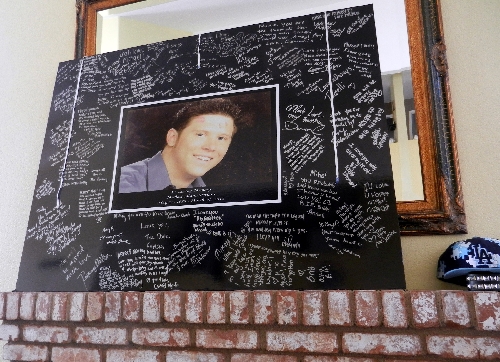 The reward keeps growing. It's scheduled to grow bigger after this weekend.
Family members of Michael Portaro — Mikey P to his friends — say it is likely to ferret out his killer and bring him to justice.
Portaro, 22, was shot and killed May 4 in the parking lot of Tenaya Creek Brewery, 3101 N. Tenaya Way. Wednesday would have been his 23rd birthday.
"He didn't just steal money, steal a car," said his mother, Cynthia, of the killer. "H e stole Mike's future (experiences), our future times together, our future grandchildren."
Between the family's friends' input and Crime Stoppers of Nevada, the reward is up to $32,000. Crime Stoppers' $2,000 portion is for anyone whose information leads to the arrest of the killer; the $30,000 would be awarded after conviction.
Tenaya Creek Brewery, a 21-or -older facility, is planning a fund raiser for 6 p.m. Saturday . Expect food trucks and liquor vendors. For more details, call 362-7335. All proceeds will go toward the reward fund, said Karl Herrera, general manager.
"We wanted to do something to help the family," he said.
I Love Yogurt, 11700 W. Charleston Blvd., Suite 120, held a similar event on April 13. Co-owner/operator Brandon Powers donated 50 percent of proceeds from sales, which increased the reward by $1,000.
"He lit up a room whenever he entered it," Powers said of Michael Portaro. "He was a very respectable, likable guy … a friend to all."
The Portaro family is trying to come to terms with the loss, but there are so many memories.
Cynthia Portaro recalled when Michael was an infant, just a few weeks old, and needed open heart surgery. He was put into an induced coma immediately afterward. She had been by his side, speaking softly of how much she loved him.
"All of a sudden, his blood pressure went up," she said. "I knew he heard me."
She has a job as a gift shop supplier. Michael Portaro often worked alongside her. Recently, while the two of them were stocking items, he pulled her out of a stressed mood by tossing a scarf at her and, when she reacted, launching into a rubber-band-man dance.
"We were laughing and dancing right there in the aisle," she said.
Then there was the time, not long ago, when she tried to reach him on his cell phone. She kept getting his voice message time after time.
It was highly out of the ordinary for him not to answer. Even more puzzling, his voice message changed each time, even if she re dialed just seconds later.
Turned out, it wasn't Michael Portaro's voice message at all. It was him, answering the call and ad-libbing, yet another one of his good-natured, practical jokes.
Their Summerlin-area house is filled with framed photos — the annual vacations at the beach, family gatherings at the house, Michael's prowess on the Faith Lutheran Jr/Sr High School's football field. One picture was Photoshopp ed to suggest that other family members were wearing official jerseys like his, sending a message that they were on his team.
As much as Michael Portaro was known for being a fun-loving guy, his parents said, he also was known for being a man who stepped up to the plate when needed.
" 'I got this,' he'd say," said his father, Richard. "And he always did."
Nowhere was that more apparent than how he took a disabled student, Andy Fair, under his wing in high school. The friendship endured after they graduated and made Fair part of the Portaro s' extended family.
What started as a joke ended up being a family tradition. Whenever it was someone's birthday, they had to wear a silly, plush purple hat. The special day always began with Richard Portaro cooking up a steak breakfast for the honoree.
Big on togetherness, the Portaros attend church together every Sunday. That influence played a part in Michael Portaro's rap music. He was in a local hip-hop group, Ekoh.
"He called it 'heart hop.' That tells you something," said his father.
Michael Portaro wrote a song for his mother and planned to give it to her this Mother's Day. It's lost in his computer files.
"I haven't found it," she said. "He played it for (his grandmother), but he wouldn't play it for me. He said it wasn't perfect yet."
She didn't find the song but for years she'd find little sayings in her son's pockets every time she did his laundry. He kept them for inspiration, he'd told her, and read them several times a day. One said: Men who move mountains begin by carrying away small stones. Another: Dreams are the touchstones of our character.
Richard Portaro recalled the day his son died, how he'd detoured back to the house for something and was pulling away just as his son arrived. They'd stopped their cars across from one another and powered down their windows to chat for a moment.
"I told him, 'I love you, see you later,' " he said.
Anyone with information about the killing is asked to call the Metropolitan Police Department or Crime Stoppers at 385-5555.
Contact Summerlin and Summerlin South View reporter Jan Hogan at jhogan@viewnews.com or 387-2949.