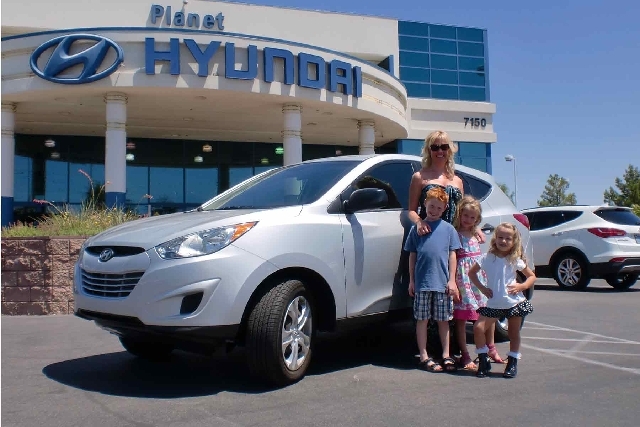 Jennifer Hochberg and her three children went shopping for a new vehicle recently and came home with more than they bargained for.
She purchased a 2013 Hyundai Tucson from Planet Hyundai Sahara at 7150 W. Sahara Ave. and, while at the dealership, entered to win a trip to Disneyland.
Soon after, Hochberg received a call from the dealership informing her that her family had won the trip.
"I was in the process of buying the car and someone told me I should enter the contest for the trip to Disneyland," Hochberg said. "You can bet we're going to have a good time."
The Hochberg family, which includes Jennifer's 8-year-old son, Tyler, 6-year-old daughter, Hailey, and 4-year-old daughter, Hayden, is not only headed to Disneyland in October but will make the trip to the Anaheim, Calif., amusement park in its new Tucson.
Hochberg, a Las Vegan who was formerly a BMW sales consultant in Long Island, N.Y., said she is impressed with the Hyundai product.
"I love how it rides," Hochberg said. "I'm very happy with the staff at Planet Hyundai; everyone was very nice. Our neighbors have a Hyundai, so I went there wanting to test drive one. The people at Planet Hyundai got us the price I wanted."
Hyundai's 10-year, 100,000-mile engine warranty also impressed her, as did the five-year, 60,000-mile bumper-to-bumper warranty.
"Without a doubt, the warranty provides big peace of mind," Hochberg said. "I would say that it has set a standard in the automobile business, and I'm sure glad that we have it."
Hochberg's sales consultant, Ody Youkhana, said the car deal was perfect for all involved .
"The car she purchased replaced a minivan that she had," he said. "The van had a lease that was due soon, so the Tucson was perfect, especially considering that it gets better mileage. The Tucson averages about 24 miles to the gallon, and gets as high as 30 miles to the gallon on the highway.
"Jennifer is very dedicated to her children and she's always taking them to one event or another, so she seriously needed a vehicle she could count on. The warranty was a big part of the reason why she wanted the Hyundai. We often sell to people who previously owned high-dollar vehicles, and in this case, Jennifer is even more interesting since she used to sell BMWs."
Planet Hyundai's umbrella of dealerships includes Planet Hyundai Used Car SuperStore at 7100 W. Sahara and Planet Hyundai Centennial at 6200 Centennial Center Blvd.
Further information can be found by visiting www.planetlv.com or by calling 702-938-1400 (Sahara) or 702-483-2200 (Centennial).