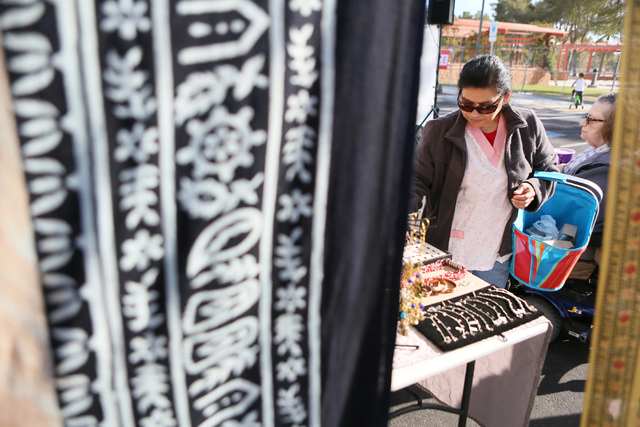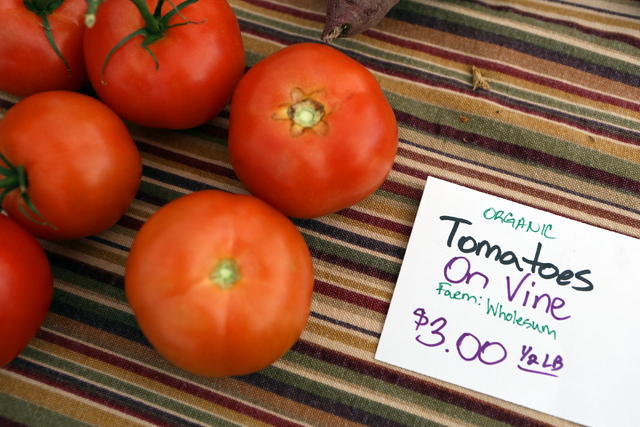 In an effort to bring local vendors to North Las Vegas, one couple have partnered with the city to provide a free farmers market. Their hope is to educate the public on nutrition while supporting small businesses and showcasing the city.
Yausmenda Freeman and her husband, Ashanti Miller, owners of Products of the Earth, took the initiatve to start the On the Ranch Farmers and Artisan Market at Craig Ranch Regional Park, 628 W. Craig Road, after realizing the need for a gathering of local businesses and residents.
"We sell our natural skincare products at local farmers markets, but we realized we didn't have one near our home in Aliante," Freeman said. "We wanted to have one in the neighborhood, and we thought, 'What better place to start it than at Craig Ranch?' "
The weekly event launched Oct. 12 with a goal to bring fresh and organic produce and local vendors to North Las Vegas. Freeman and Miller began planning the market a year ago and received the city's approval in July to host the event at the park.
The market started with four vendors and now has 17. Despite the increased interest, Freeman said it has yet to capture the attention of local farmers. To fill the produce gap, the couple have certified organic produce from California shipped in every Sunday morning.
"There's a lot of room to grow here," said Laura Lenzy, owner of La'Ant, a store that sells handcrafted finger puppets. "So far, we've received nothing but support. The neighborhood is excited to have us here."
Among some of the unique items sold at the market are moose and elk antler dog chews and pop culture art made from wood. Other items include locally crafted hot sauce, jams, jellies, honey products, natural skincare items and handmade jewelry.
"Our goal is to provide a diverse offering of vendors and educate the community on how to live a healthier lifestyle through nutritional education and gardening," Miller said. "We also want to boost the economy of North Las Vegas and build a stronger community alliance among residents."
Vendors also are on site selling coffee, muffins, tamales, burritos and soups.
Organic produce includes purple and green onions, quail eggs, carrots, Valencia oranges, young coconuts, spaghetti squash, oyster mushrooms, black Spanish radish and purple asparagus.
The couple have made it a point to visit different neighborhoods every week and pass out the farmers market's fliers to spread the word.
Children's activities are planned on various days at various times, including live music, crafts, face painting, scavenger hunts and do-it-yourself activities. In addition, Freeman hopes to add chef demonstrations, yoga classes and gardening tips.
"We're still learning what the community wants," she said. "We try to choose things that people can't find in a normal grocery store, so they can explore different tastes."
The couple also sells On the Ranch round-up box subscriptions with fruit and vegetables for $25 for a half-share box, fit for one to two people, or $50 for a full share, fit for three to five people.
The farmers market is accepting vendor applications on a first-come, first-served basis, with priority given to Nevada-based businesses. Booth fees cost $100 a month.
Merchants accepted include those who sell produce, meat, poultry, seafood, dairy, beverages, prepackaged and cooked-to-order foods, food trucks, baked goods, sweet treats, health and beauty products, pet care, jewelry, artisan crafts, books and music.
Freeman said that between two to four new vendors join the market every week. Many are in the process of clearing their business licenses with the city.
Next year, Freeman said she hopes to create a nonprofit to help sustain the farmers market and improve the quality of life of the community.
"We want to create a waterhole for the community to come together and live a healthier lifestyle," she said. "We have high hopes for the future."
On the Ranch Farmers and Artisan Market is scheduled from 9 a.m. to 2 p.m. Sundays. For more information, visit ontheranchmarket.com or call 702-726-2426.
Contact North View reporter Sandy Lopez at slopez@viewnews.com or 702-383-4686. Find her on Twitter: @JournalismSandy.