Fate finds way to reunite family with lost dog
February 26, 2013 - 12:00 am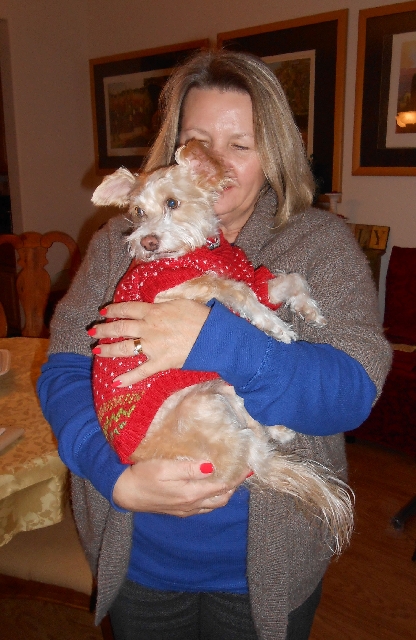 Sometimes, fate steps in to rectify a situation.
Last February, Gabriele Pruitt thought nothing of allowing her rescue dog, Stacy, free reign of her courtyard. After all, she and her husband, Jerry, lived in a gated community, and in the three years they'd had her, the terrier mix had never jumped the waist-high wall.
But when Pruitt returned, the dog was gone.
"I just thought that someone came and took her out of there," she said.
She later realized that the gate provides just enough room for a small dog to squeeze through.
A neighbor, Carol Patton, called to say she had seen the dog on her street but that Stacy would not come to her and had scampered off.
The Pruitts knocked on doors, papered the neighborhood with posters and pictures, put pleas on the Internet and posted signs at veterinary offices.
They live near Lone Mountain, just off Alexander Road, and coyotes are sometimes seen in the area. Pruitt didn't want to think about that possibility.
"She was my very first dog," she said. "She would always watch TV on my husband's lap. … She was just a sweet dog."
Pruitt drove to The Animal Foundation, 655 N. Mojave Road, twice a day for three weeks straight, hoping someone had found her pet but had no results.
Their youngest son, Michael, 13, prayed each night that Stacy would be found. They rescued a new dog, Maddy, to help him get over the loss. She would be Stacy's playmate when she returned. All the time, the Pruitts spoke in terms of "when" Stacy was found, not "if."
"I never gave up hope … I knew, inside, she was (somewhere)," Pruitt said.
For Christmas, the Pruitts decided to rescue another dog. The Animal Foundation had a pooch of the same curious breed mix, so close to Stacy they could be mistaken for litter mates. Pruitt named her Ebe (pronounced E B).
Ebe had been on the streets a long time. She'd obviously given birth to a litter fairly recently. Her fur was matted, and she had dark tear stains. Once she was up and about from being spayed, Pruitt took Ebe to her regular groomer, Groomingdales, 6712 W. Cheyenne Ave.
She returned to pick up the dog and was pleased to see that Ebe was not just happy but overjoyed at seeing her.
"When you walk in, they have the cages (up front for) the dogs that are waiting to be picked up," she said. "She was the only one that's that breed. And the dog is laying down, (then gets) all excited and crazy. I was like, 'Oh gosh, you love me so much.' "
Pruitt said she was amazed at how much better the dog looked, with not even a hint of tear stains.
In the car, the usually nervous Ebe seemed content as ever. She wasn't throwing up at being in a vehicle. Pruitt looked closer.
The dog had no evidence of having suckled puppies.
She also didn't have any incision. The dog was not Ebe.
Pruitt returned to the groomers to correct the mistake. She arrived just as the other family –– a grandmother and a boy of about 5 –– walked in to retrieve the dog she had taken. They told her that they'd found their female terrier mix last February near Alexander Road.
"I came to return it, but now I don't want to give it back," Pruitt said of that moment. "I had every intention of giving the dog back, but now that you're telling me where and when (she was found), and I'm looking at the dog and the markings, and I go, 'I think this is Stacy.' "
The family demanded their dog, but Pruitt refused to relinquish it. Everyone was trying to talk at once. The dogs got excited and were barking.
"It was a madhouse," Pruitt said.
The owner of the business had to yell for quiet.
Stacy had been microchipped three years before, and Pruitt had continued to pay the monthly fee. All the parties climbed in their cars, drove to a nearby animal hospital and watched as the dog was scanned.
Pruitt held her breath.
The code confirmed it was her long-lost Stacy.
Stan Yannazzo, the owner of Groomingdales, said he was amazed at the coincidence.
"They could come for 10 years and never run into each other," he said. "… But she was the legal owner."
Pruitt thanked the family for taking good care of Stacy and took her dogs home, happy to tell her family what had transpired and that they now had three dogs to shower with love.
"It was meant to be," said Char Channing, Pruitt's mother-in-law. "For someone to have taken her to the same groomer, on the same day, it's unbelievable."
The family that had found Stacy and cared for the pooch for nearly a year left empty-handed, trying to come to terms with what had happened.
"The little boy was crying, and she was crying … and she was on a fixed income," Yannazzo said. "I know what it's like when you're attached to a dog."
Yannazzo felt so bad, he told them to meet him at The Animal Foundation and had them choose a new dog and paid the adoption fee for them.
They adopted a Chihuahua.
Contact Summerlin/Summerlin South View reporter Jan Hogan at jhogan@viewnews.com or 702-387-2949.