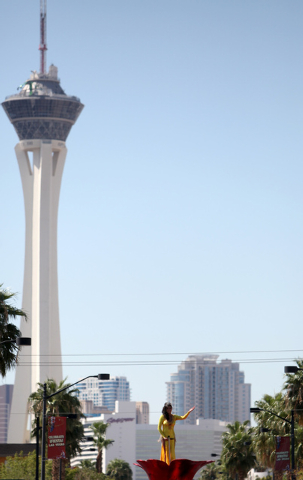 When Anastacio Del Real and fellow co-founders of the Fiesta Las Vegas Latino Parade and Festival created the daylong celebration of Latino culture a few years ago, they weren't quite sure whether the community would embrace it.
The valley already was home to several cultural festivals. And among their number, Del Real noted, were previous festivals devoted to Hispanic and Latino culture.
But long story short: The community not only embraced the Fiesta Las Vegas Latino Parade and Festival, they embraced it with, to clumsily coin a phrase, mucho entusiasmo.
This year's event kicks off Saturday with a parade that begins at 10 a.m. and a festival at the Fremont Street Experience that runs from noon to 11 p.m.
It is the third edition of the event, and Del Real said attendance has increased each year.
"It's just been well-received by the community," Del Real said, noting that last year's event drew about 30,000 people to the festival and parade.
The family-friendly event features food, music and entertainment, as well as booths staffed by local artisans and representatives of valley organizations.
The date of each year's festival is keyed to the observance of Mexican Independence Day and the arrival of Hispanic Heritage Month. And while Mexican entertainment, food and culture tend to predominate, the event is designed to highlight the cultures of Central and South America, too.
Best of all, the free admission — and, Del Real added, an economical $5 for all-day parking at the Neonopolis garage — makes it an affordable event for the entire family.
"We've worked hard to seek sponsorships to be able to (cover) the costs," Del Real said.
The celebration begins at 10 a.m. with the signature parade, which will run along Fourth Street from Gass Avenue to Stewart Avenue.
More than 90 groups representing cultural associations, equestrian groups, schools, ROTC units and small businesses — an increase from about 70 last year — are scheduled to march this year, Del Real said. "This year, we had to actually stop our registration."
The grand marshal is state Sen. Ruben Kihuen, D-Las Vegas. Also honored will be Ofelia Perez, driving force behind the dance troupe Danza del Carrizo and recipient of the 2014 Nevada Heritage Award, and North Las Vegas Councilman Isaac Barron.
Following the parade, the festival kicks into high gear on Fremont Street with a daylong roster of musical acts, street performers, dancing and other attractions.
More than 30 acts are scheduled to perform this year, Del Real said. Among them are Mexico-based group Alegres de la Sierra and Mexican singer Gildardo Alvarez, and local performers including Vol. 1, Banda Zacatecana de Tony Flores, Mariachi Mexico Antiguo, Gravedad Rock and Esencia Colombiana.
Food vendors will offer familiar dishes as well as regional cuisines of Mexico. Del Real said this year's culinary offerings also will include vendors serving dishes from Venezuela and Colombia.
At 7 p.m. Saturday on the festival's main stage, Julian Adem Diaz de Leon, Mexican consul in Las Vegas, will lead a ceremony in observance of Mexican Independence Day.
Del Real said festival guests each year include members of the valley's Latino community as well as non-Latinos seeking to sample the food, music and culture of other countries.
"Last year we did have a mixed audience, and I think folks who hadn't been exposed to some of the (cultures) really were taking it all in and really appreciative of what was available," he said.
And while most festivalgoers tend to be locals, Del Real also has met tourists who turn out for the event.
"Last year, toward the end of the day, a tourist stopped me — I was wearing my badge — and he was, like, 'Congratulations. I was staying at the Fremont and I just bumped into this parade, and I had never seen anything like this, and I just wanted to tell you.' "
What does Del Real hope that a visitor takes away from the festival? "A lot of it has to do with education and exposure to our culture and traditions and customs," he said.
"If it's a second-generation family that's here in Las Vegas — maybe their grandparents or their great-grandparents are from Latin America — the kids and the family members have an opportunity to get firsthand exposure to the traditions and customs."
At the end of the day, Del Real said, "it's that, if it's the parade or the festival or the dance or the music or, even, the tasting of foods, that the family leave here with a broader understanding of our culture."
Contact reporter John Przybys at jprzybys@reviewjournal.com or 702-383-0280.
Preview
What: Fiesta Las Vegas Latino Parade and Festival
When: Parade at 10 a.m. and festival from noon to 11 p.m. Saturday
Where: Fremont Street Experience, downtown Las Vegas
Admission: Free (702-608-1278 or www.fiestalasvegas.org)