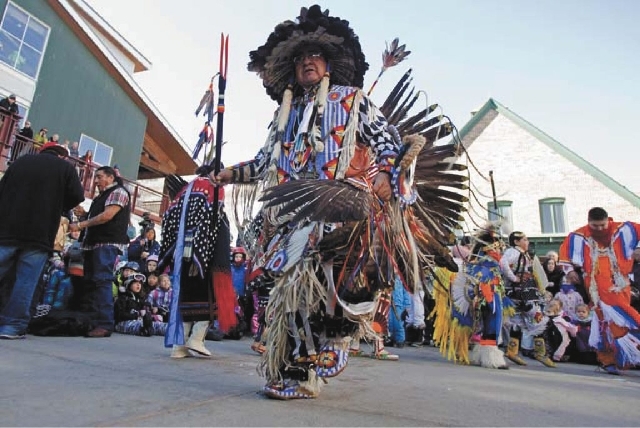 There are many ways to pray for rain.
Legendary Nevada Paiute spiritual leader Wovoka is best known for his "Ghost Dance" vision, but it is said he could coax ice from the heavens in summer and end a drought by calling forth the rain clouds on clear days.
Lacking Wovoka's connections, as the Spring Mountains burned, I resorted to Facebook and asked friends to join me in a rain dance. The response was immediate. Many folks, it seemed, were thinking the same thing.
In no time 130 people responded. Justin McAffee sent a video clip from the 2012 Thunderbird American Indian Festival. And Linda Piediscalzi implored everyone to "wash all your cars and windows, and hang clothes out to dry!"
Judy Himel started dancing in Utah, Joyce Holtz from the east end of the valley. John Chambers danced in the street in his wheelchair, Bill Marion danced his shoes off, and Padmini Pai danced in her sari. Bobby Deborde dusted off his disco moves, and Diana Anson danced like no one was watching. Donna Ziegler West danced using her rain stick, Clark County Commissioner Larry Brown added an "Amen," and the Smiths danced with lighter hearts.
By Wednesday evening, firefighter sources reported a light rain was falling in the Spring Mountains. By Thursday morning, there was no doubt a summer storm was rolling in, bringing with it plenty of precipitation and no small amount of hope for the preservation of those precious mountains.
Although Wovoka is one of my favorite Nevadans, and I am not one to question anyone's spiritual insight, I also realize the National Weather Service this week was calling for rain as well. So maybe we had the odds in our favor.
The rain dance response was a small reminder of the greater collective spirit of this community, whose people have been so generous in their offerings to displaced residents, evacuated pets and all those firefighters.
The Carpenter 1 Fire has burned approximately 30,000 acres, and by the time the last of the smoke clears will have cost more than $10 million to fight. But it also has brought out the best in a lot of good people.
Wovoka would be proud.
RAINING DONATIONS: Commander Harvey broke the news to grateful locals as gently as he could. All those firefighters, he said, are getting enough to eat.
Harvey on Wednesday evening politely implored locals to redirect their mountain of donations to the American Red Cross. He explained that food is a big part of the firefighting operation's logistical responsibility.
"And one of the things that logistics covers is making sure the firefighters have showers, making sure the firefighters have ice, making sure the firefighters have water, Gatorade, cookies, desserts from the caterers," Harvey said. "They are not starving pilgrims.
"… Firefighters are a little bit like bears. Please don't feed the bears. We are getting an incredible outpouring from the community for the firefighters."
FIREFIGHTER DIET: Although I couldn't handle their daily workouts, I do like the diet firefighters are on as they bust their tails on the mountain for 12 hours a day and more. The menu varies, but Harvey said the anticipated calorie availability by contract is approximately 7,000 every 24 hours.
And not a rice cake or carrot stick for miles.
NDF 'CATCALLS:' Nevada Division of Forestry official Mark Blankensop has spent plenty of time in the back country in recent days. At last count, in addition to putting out fire and cutting a defensive line through the rugged forest, his crews had rescued 11 cats and had also helped water homeowners' yards and gardens. They've even fed their chickens.
"I spent all day feeding chickens," Blankensop said, smiling.
Yeah, sure he did. In addition to his expertise with hens and roosters, Blankensop has approximately 35 years of fire and rescue experience with the state and Bureau of Land Management.
'LAS VEGAS FIRE:' Thanks to a little flyover reporting, some out-of-town folks have managed to merge the Carpenter 1 Fire in the Spring Mountains with the Las Vegas dateline. The Strip is hot this time of year, but it's not really burning.
When an elderly woman living in Chicago saw the flames on television and heard "Las Vegas," she immediately called a family relative in Green Valley to make sure he was safe. When he didn't answer his phone, she called Clark County and wound up speaking to Commissioner Brown's assistant, who politely gave her a geography lesson.
24-HOUR MARTINIZING: In upper Kyle Canyon at county Volunteer Fire Department Station 81, residents have put in some long hours assisting wherever they're needed. No one has put in more time than station Chief Dave Martin, who has essentially worked around the clock. Dedicated guy that he is, Martin still finds time to see his wife, Debby, and grown kids, Will and Genevieve.
Of course, it helps that they're also members of Station 81.
ANIMAL LOVERS: The Animal Foundation made a lot of friends this past week by welcoming without charge the many pets of evacuated Kyle Canyon residents. Centennial Hills Animal Hospital also waived its fees for the four-legged friends of displaced residents.
HUMAN LOVERS: Meanwhile, the mountain's two-legged residents are getting help, too. The Cannery stepped up to provide 40 free rooms, and the Santa Fe charged just $25 a night. Area restaurants have also offered discounts for those displaced locals.
RURAL FREE DELIVERY: Whatever you do, don't tell Commander Harvey. But when the Station 81 volunteers recently pulled up to the tired NDF field crews working the hazy Rainbow subdivision, the usual nods of greeting were exchanged. Then the volunteers got down to business.
They delivered the crews pizzas from BJ's Restaurant.
I have it on good authority there's no chance anyone will get in trouble for feeding those firefighters.
It seems the evidence quickly disappeared.
Have an item for Bard of the Boulevard? Email comments and contributions to jsmith@reviewjournal.com or call 702-383-0295. Follow him on Twitter @jlnevadasmith.