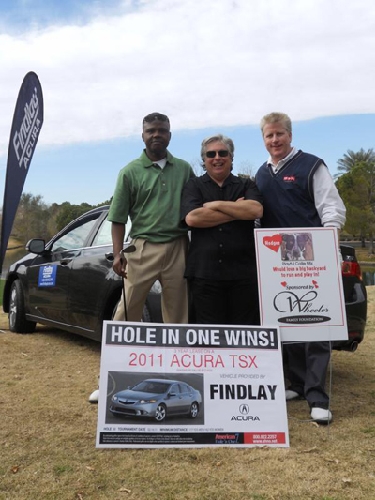 Community-minded Findlay Acura executives General Manager James Cobbs and Fleet Internet Manager Jim Donohue participated in the annual Heaven Can Wait Animal Society Valentine's Day golf tournament Monday at South Shore Golf Club at Lake Las Vegas.
A fundraiser for Heaven Can Wait Animal Society, Golf Fore the Love of Pets drew 72 players.
Findlay Acura sponsored the par-3, 177-yard, eighth-hole with a 2011 Acura TSX, which was offered as a prize to anyone who hit a hole-in-one. No one cashed in on the offering although at least three players were within 5 feet on their first shot.
Among the players landing close to the hole were J.P. Ibarreche of Puebla, Mexico; Las Vegas executive Joe Murphy; and Dr. Peter Scully.
"We love being a part of the Heaven Can Wait Animal Society event," said Cobbs. "The organization does so much to help control animal populations while also finding homes for the hundreds of pets that are left behind, especially after a foreclosure."
Valerie Treaster, the animal shelter's director of fundraising, said abandoned pets are at an all-time high due to the bad economy.
"It's awful," she said. "We need all the help we can get and sincerely appreciate the help we received from the folks at Findlay Acura."
Harold Vosko, one of the co-founders of Heaven Can Wait, said the situation is at epidemic proportions.
"We need to be doing aggressive spay and neutering," Vosko said. "This year we are committed to sterilizing 13,000 cats and dogs. Businesspeople like Findlay Acura who donate and sponsor our cause allow us to reach our goals ever year. Without them, who knows how many animals would be dying?"
Vosko added that more than 30,000 animals die every year in local shelters.
Heaven Can Wait Animal Society is a nonprofit organization dedicated to eradicating the senseless euthanasia of more than 40,000 animals annually in Southern Nevada. A leader in education and awareness of the principles of responsible pet ownership, the society has saved thousands of animals through its sterilization, rescue and rehabilitation programs including The Feral Cat Clinic, which controls the overpopulation and suffering of feral cats; Ground Zero, which offers affordable spay and neuter programs; It's the Pits, which focuses on the sterilization of pit bull and pit-mixed breeds; Tails to Tails, which fosters children's literacy utilizing trained dogs; and Pups on Parole, which pairs homeless rescue animals with inmates at correctional facilities for rehabilitation and reintroduction into society.
Donohue said that the dealership will always been available to help Heaven Can Wait Animal Society.
"When I got the call saying they could use the help for the golf tournament, we didn't even hesitate," Donohue said. "The current situation as it relates to animals being left behind is terrible and we sincerely appreciate the efforts of everyone at Heaven Can Wait."
Findlay Acura is part of the Findlay Automotive Group founded more than 50 years ago by the late Pete Findlay whose son, Cliff, now spearheads new and preowned automobile dealerships in Nevada, Utah, Arizona and Idaho.
Further information regarding the dealership at 315 Auto Mall Drive in the Valley Automall can be found by calling 982-4100 or visiting www.findlayacura.com.