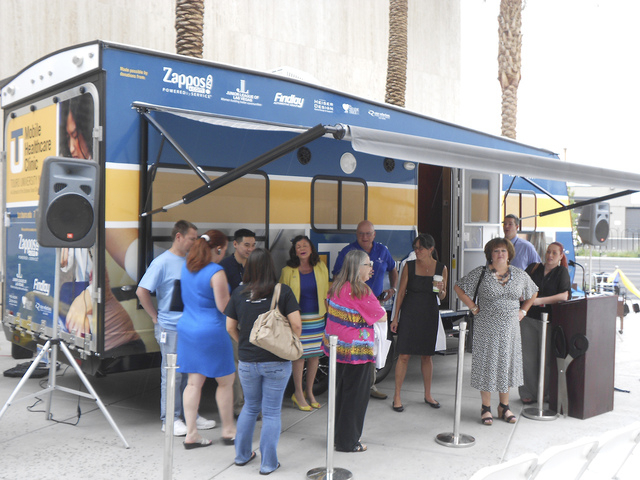 Cliff Findlay and Shelley Berkley are combining to help make a reality of the dream of a mobile health care clinic that will be used to help the needy.
Berkley moved on from her days as a U.S. congresswoman after she served Nevada's 1st Congressional District from 1999 until 2013. As CEO and senior provost of Touro University Western Division she now gets to help her community more than ever before.
Knowing that Touro needed a mobile unit so doctors and students could reach out to the community to help the needy, Berkley called Findlay Automotive Group President Cliff Findlay for help.
Findlay and Berkley have known each other since they were students at then-Nevada Southern University (now UNLV) in the 1960s. Their longtime friendship led to a first-of-its-kind mobile health care clinic that was unveiled July 10 at Zappos Campus Courtyard in downtown Las Vegas.
"They discounted the price so much that we would have been foolish to turn it down," Berkley said. "It was a teamwork effort considering that Zappos gave us the money to make the purchase; and the Junior League of Las Vegas provided the money for the medical equipment to be used inside the clinic."
The mobile unit was the brainstorm of Touro University Nevada School of Physician Assistant Studies Director Vicki Chan-Padgett about five years ago. Now, many of those in need of medical help will receive the assistance when the Touro team journeys throughout Southern Nevada in an effort to cure the sick.
The efforts of Chan-Padgett—a 21-year veteran of the U.S. Air Force who received her bachelor of science degree as a physician associate from the University of Oklahoma and U.S.A.F.— have gone from a wish to reality with help from the school's students, who will also provide care.
During a press conference under threatening skies that showered downtown Las Vegas for a short time, Berkley said: "I remember hearing that it would be a rainy day in July before we ever got a mobile health care clinic.
"Well, here it is."
The mobile health care unit will serve Veterans Village along with the Las Vegas Metropolitan Police Department's Homeless Outreach Program and The Shade Tree Shelter.
"When Shelley Berkley called and described the plan for a mobile health clinic we thought it was a great idea and immediately jumped on board," said Findlay Automotive Group CFO Tyler Corder. "This RV will help satisfy a great need for those in Las Vegas lacking access to health care. We're proud to have been able to help this become a reality."
Added Clark County Medical Society Executive Director Loretta Moses: "The Clark County Medical Society is extremely proud of the innovation Touro University Nevada continues to generate to serve our community. The mobile health care clinic will help to meet the needs of some of our underserved populations. We congratulate the entire Touro University Nevada team, its donors and community partners who helped turn a dream into reality."
And Arnold Stalk, executive director of Veterans Village, noted: "The Mobile Medical Unit is a huge impact investment in our veterans community and it will provide a much-needed service to the almost 700 veterans who visit our Veterans Village campus every month. This mutual partnership is a tremendous step forward to help our most underserved veterans receive medical treatment with the dignity and respect they deserve."
The clinic has two exam beds with privacy curtains and has the capability to do routine physical exam checks as normally done in a clinical office. Supplies are also included for wound care such as incision and drainage of boils, debridement and suturing. The clinic also includes a refrigerator.
In addition, a nebulizer is available for those with acute symptoms such as asthma. The clinic is also equipped with an otoscope and ophthalmoscope equipment, along with the ability to provide female exams. Glucose and BP screenings can also be done.
Other sponsors included Color Reflections and Heiser Design.
Located at 4530 Boulder Highway, Findlay RV has been at its same location for more than 30 years. For further information, call 702-435-2500 or visit www.findlayrv.com.
Headed by General Manager Reuben Figueroa, Findlay RV is part of Findlay Automotive Group that was founded more than 50 years ago by Pete Findlay, whose son, Cliff, now oversees new and preowned dealership in Nevada, Arizona, Utah and Idaho.