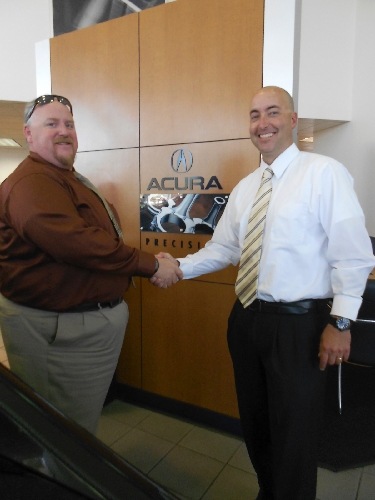 Tim Welsh's story of how lymphoma unexpectedly entered his life about 12 years ago is so compelling that he is among the candidates for Man of the Year honors during the annual Leukemia & Lymphoma Society's Man and Woman of the Year ceremony that will take place May 18 at the Four Season .
"I was at an Enterprise function and I felt something at the top of my right leg," said Welsh, a 43-year-old, 20-year resident of Las Vegas who has served as group account manager for Enterprise Rent-A-Car for the last 19 years. "For two weeks, I put it off. I finally went in and there was a lump. The doctor performed a biopsy and found out I had Hodgkin's disease.
"I had been feeling fine and had no idea that anything was wrong. The doctors found a 3-centimeter lump in the top of my right leg and removed it through surgery. While the doctors don't know for sure, the lump was probably Stage Two Hodgkin's. It was a slow-growing form of lymphoma."
Welsh underwent chemotherapy for the next year.
"Chemotherapy essentially poisons your body," Welsh said. "I'd usually go home on Friday afternoon, undergo the chemotherapy and rest for most of the weekend. There were a multitude of side effects. Even food doesn't smell very good."
Making matters even more stressful was the fact that Welsh's wife, Michelle, was expecting the couple's second child at the time.
"We had been married for about three years," he said. "As we found out more about the cancer, our relationship grew. I'm a firm believer that cancer accentuates the person you already were."
Findlay Automotive Group Chief Financial Officer Tyler Corder recruited Welsh to the Leukemia & Lymphoma Society.
"I recruited him to be on the board of the Leukemia & Lymphoma Society at the time not knowing that he was a survivor of blood cancer," said Corder, who serves as the president of the society's board of trustees. "I later found out that he was a survivor and encouraged him to be candidate for Man of the Year.
"Tim is extremely well liked by all of the people at Findlay. As a blood cancer survivor, several of our stores have jumped in to help him with his campaign."
Among those is Findlay Acura General Manager Kevin Hicks, who first met Welsh about seven years ago.
Because of Welsh's employment with Enterprise, which sells pre-owned vehicles to dealerships, Hicks is in touch with Welsh several times a week.
"He's a very professional and outgoing kind of guy," Hicks said. "He's a great golfer and a great person. He is certainly a qualified candidate for Man of the Year honors, that's for sure."