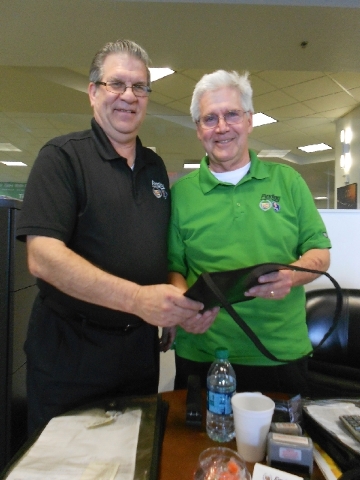 In the car business, service writers can be almost as important as a physician to the owner of an automobile, according to Keith Acree and Mike Hall of Findlay Cadillac, who have earned their following during their combined total of almost 45 years with Findlay Automotive Group.
Acree started with the company 28 years ago when he was hired to work as a quality control manager for Pete Findlay Oldsmobile at 324 E. Fremont St. He had moved to Las Vegas from Los Alamos, N.M., where he worked for a mom-and-pop automotive shop.
"I was actually an assistant manager for Thrifty Drug in Las Vegas before joining Findlay Oldsmobile," Acree said. "I like the business and I like the people. I have never wanted to change."
Hall, a native of Detroit who has lived in Las Vegas since 1995, also joined Findlay Oldsmobile, where he worked as a lot porter. He retired from the Navy after 26 years as a senior chief petty officer serving in San Diego, Africa and the Pacific Southeast Asia area. He said he had ideas of working elsewhere before the job with Findlay surfaced.
"I had applied for a job with the post office and was hired with a pending start date in August of 1995. Then about 18 months later, I got a reply from the post office but I had already started with Findlay for about six months. I didn't want to leave the Findlay group, so I stayed and I have never looked back. I really enjoy the people that I work with, and I especially like the job. Cadillac owners are class people and we appreciate that they are our customers."
Working for Pete Findlay was a thrill for Acree and Hall, they said.
"Pete was a true character. He would walk into the Oldsmobile store and nobody felt threatened at all by him simply because he was a very nice guy," Hall said.
"Pete was friendly and down-to-earth. He talked to everyone; and he was part of old-time Las Vegas. You simply don't forget people like Pete Findlay," Acree said.
Hall and Acree are part of the team that helped Findlay Cadillac earn the General Motors Dealer of the Year Award for excellence in sales and service. The dealership is at 993 Auto Show Drive in the Valley Automall. For more information, call 702-558-2600 or visit www.findlaycadillac.com.
Findlay founded Findlay Automotive Group more than 50 years ago. Now headed by his son, Cliff, the group has dealerships in Nevada, Arizona, Utah and Idaho.