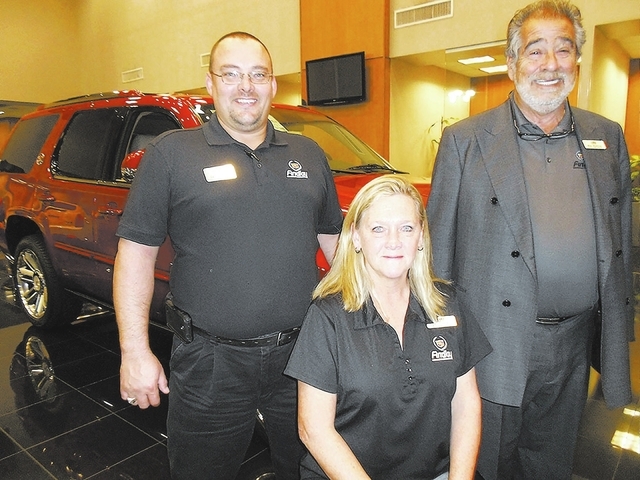 Findlay Cadillac in the Valley Automall has a trio of sales agents who are expected to reach a total of about 400 sales in 2013, according to company officials.
They are Mike Waldman, Deb Topham and Jason Clouse, who have more than 40 years experience in the car business.
"It's been a challenging year and that makes our results that much more impressive, said Topham, a native of Wichita, Kan., who added that many Cadillac customers are also younger buyers. We're still selling a lot of cars and Cadillac has done an incredible job of widening its demographic to produce an expanded clientele.
"We have a lot of buyers who are 25, 26 or 27 years old," she said. "They're able to qualify and they're college graduates with jobs and positions. They're can lease for as little as $300 a month."
Topham said Cadillac has a greater "young at heart" design these days.
"By that, I mean this vehicle is no longer your grandpa's Cadillac," Topham said. "We hear that quote all the time. People of all ages are now rewarding themselves with a Cadillac."
Clouse, a 40-year old native of Southern California, said Cadillac has run to the front of the technology curve.
"I think that Cadillac is back at the top of the list of luxury brands," he said. "From what I have seen and experienced, Cadillac has chosen to remain a high-end luxury vehicle and its recent changes to body and technology is just another example of their dedication to excellence.
​ "The 2014 CTS was named Motor Trend Car of the Year and the ATS with its phenomenal engine is the North American Car of the Year car of the year for 2014. Cadillac is definitely producing some absolutely phenomenal vehicles and there are more to come. It is an exciting time to be with Cadillac and to be at the largest dealer in Nevada."
Cadillac's leadership has shown incredible foresight, according to Clouse, who has been with Findlay Cadillac for eight years
"It goes without saying that Cadillac has done its homework and because of that, we have recorded some good numbers in what has been an interesting year, for sure."
Waldman, a native of Denver who moved to Las Vegas from Chicago in 1989, said the trio's accomplishment is exemplified by the fact that each sales consultant earned honors in the Cadillac Crest Club.
"Only 100 sales consultants are given the honor in the entire nation," he said. "There are five districts and those being honored must also be certified in Cadillac training, too."
Situated at 993 Auto Show Drive in the Valley Automall in Henderson, the dealership is led by General Manager John Saksa. For more information, call 702-558-2600 or visit www.findlaycadillac.com.