Findlay Chevrolet debuts Holiday Tree Decorating contest
December 2, 2011 - 2:03 am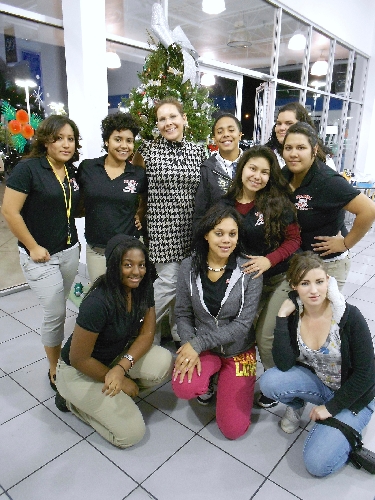 Enthusiastic students from six Southern Nevada schools converged on Findlay Chevrolet Tuesday and Wednesday for the first Holiday Tree Decorating contest at the dealership situated just off the Las Vegas Beltway between Rainbow and Jones boulevards.
With participants from Sierra Vista High School, Burk High School, Durango High School, Lutheran Junior/High School, Liberty High School and Valley High School, students decorated trees that are now visible throughout the Findlay Chevrolet showroom.
If it was spirit people were looking for, they didn't have to go any further than the dealership for two evenings.
"This is awesome," said Findlay Chevrolet General Manager Jamaal McCoy. "This sort of event brings out the best of our young people. They have a goal and that is to win while helping others at the same time.
"These kids are smiling, laughing and having a great time. We're all very proud to be part of such a wonderful event. We have been working on this since last June and it's so good to see it all come together like it did."
Each school was given $200 for decorations. The winning school will get $1,000, while the runner-up gets $750, third place receives $500 and fourth place gets $250.
"I think this is a great event for our school and the dealership," said Faith Lutheran Student Body President Taylor Pori. "We're all really excited about this and having everyone come together in the Christmas spirit is something that we'll never forget."
Burk High School librarian and leadership teacher Wendy Sowden spearheaded the school's decorating efforts.
"I love it," said Sowden, who has been in the Clark County School District for 12 years. "I'm very proud of the kids. This all came together very well. We dedicated our tree to all of the homeless animals in Southern Nevada. If we win, we will donate all the toys used for the decorations along with 25 percent of our money to local animal shelters.
"All of the dogs and cats pictured on our tree are looking for a forever home."
Schools will be judged by the amount of "likes" on Facebook. All judging will be conducted until Jan. 2.
Voting can be conducted by visiting www.findlaychevy.com and clicking the Facebook link.
Findlay Chevrolet is part of Findlay Automotive Group founded in 1961 by the late Pete Findlay, whose son, Cliff, now oversees new and used car dealerships in Nevada, Utah, Idaho and Arizona.
Further information regarding the dealership can be found by visiting www.findlaychevy.com or by calling 702-982-4000.