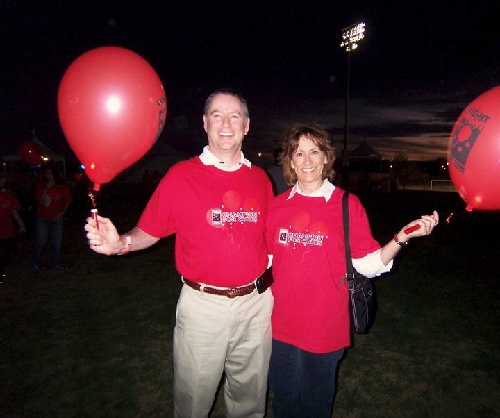 The annual Southern Nevada office of the Leukemia & Lymphoma Society's 12th Light the Night Walk at Kellogg Zahar Park has been scheduled for Saturday and Findlay Automotive Group continues to play a big part in the event.
Findlay Honda Henderson and Findlay Acura, both located at Valley Automall, have presented benefits throughout the year leading into Saturday's event, which will feature more than 1,000 helium balloons lighting the sky over the park situated at 7901 W. Washington Ave. in the northwest valley.
"Leukemia and lymphoma have touched so many of us either directly or indirectly," said Findlay Automotive Chief Financial Officer Tyler Corder, who has served as president of the board of trustees for the Leukemia Society Southern Nevada Chapter for two years.
"My family had not been touched by leukemia or lymphoma until three months ago when a family relative was diagnosed with lymphoma. She is now undergoing chemotherapy treatment, so the disease has certainly hit very close to home for me."
Corder added that Findlay Automotive Group's involvement dates back several years when the annual Leukemia & Lymphoma Society' charity golf tournament was presented in memory of Mary Jo Findlay, the wife of Findlay Automotive Group founder Pete Findlay.
Also, Findlay Cadillac has been an annual sponsor of the society's annual golf tournament each spring. Findlay Honda Henderson has presented several bake sale fundraisers over the year and also included a car wash to generate funds for Light the Night.
For several months, Findlay Honda Henderson has been selling chocolate candies for the society. Also every Friday, the dealership has a dress-down day when anyone wearing Levis donates to the charity; and the dealership is collecting discarded aluminum cans with funds that are generated going to the society.
Findlay management has also provided donations to the society and works with a service contract vendor, National Auto Care, to raise funds through a program called Contracts for a Cause.
"We're committed fully to assisting the Leukemia & Lymphoma Society," added Corder. "We have seen the devastating effects physically, emotionally and monetarily that can be the result of battling blood cancers and we very much respect what the society does for many people all year long."
Christina Goodman, patient services manager for the society, said Findlay Automotive Group's involvement has been invaluable.
"Without them we wouldn't be able to serve the 900-plus patients we have in Southern Nevada," said Goodman, who has been with the society for seven years. "We can't do it without them."
The event will begin with check in at 5 p.m. Festivities and a remembrance ceremony are scheduled to start at 6 p.m., and the walk is slated to start at 6:30 p.m. Three local patients, Frank Cartwright, Lori Roques and Kellen Winegar, will be honored. Tim Provo, who lost his life to leukemia in 2010, will be memorialized.
The annual fundraising walk is held in more than 200 communities across the country each year. The event was started to raise funds supporting blood cancer research for leukemia, lymphoma and myeloma.
About 957,900 people in the United States are living with or are in remission from a blood cancer. The local society provides support for patients and their families through financial assistance, educational programs and support groups.
Further information regarding the walk can be found at contacting the local office at 436-4220 or by visiting www.lightthenight.org.
Findlay Automotive Group has been a part of the Southern Nevada business community for 50 years since it was founded in Las Vegas in 1961.