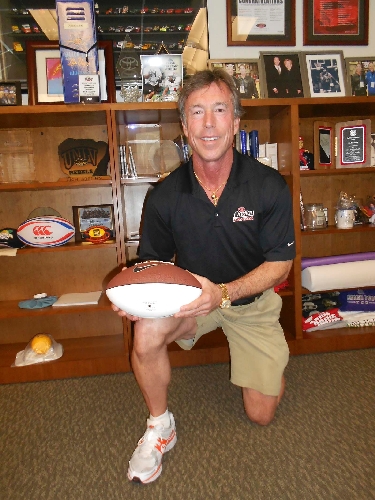 You might say that Findlay Toyota General Manager Rich Abajian, a former college football player at the University of Nevada, Reno, handed the ball off to fellow Findlay Automotive Group employee Don Richardson back in 1996 before helping turn the Southern Nevada Sports Hall of Fame into an annual game-winner.
Richardson, now the used-car manager at Findlay Toyota, had just played golf in Mesquite with legendary quarterback David Humm, who starred at Bishop Gorman in Las Vegas in the early 1970s before being named All-American at the University of Nebraska and finally wrapping up a National Football League career with several teams including the Oakland Raiders.
"I came back to town thinking that it would be really nice to honor David for all he has done for this community," recalled Richardson. "I asked Rich what I could do to honor David, and he suggested that we start the Southern Nevada Sports Hall of Fame."
Abajian, a Walla Walla, Wash., native has been entrenched in athletics. In high school, he earned six letters in baseball, wrestling and football. At the University of Nevada, Reno, he became a two-year starter for the Wolf Pack football team in 1973-74.
Abajian thought Richardson's idea was a natural, especially considering that the Southern Nevada Sports Hall of Fame would not only recognize notable figures in athletics, but also provide scholarships for young people. After an impressive career of his own that included playing football and serving as an assistant coach under Tony Knap at the University of Nevada, Las Vegas from 1977 through 1981, the timing was perfect.
The initial meeting of dignitaries at Saturn of Henderson included Richardson, Las Vegas 51s general manager Don Logan; former UNLV quarterback Steve Stallworth, now with the South Point; Bill Purcell; local food business expert Jerry Zobrist; Cliff Findlay; Kevin Higgins, and long-time announcer Bob Blum. It was agreed that a dinner honoring Humm was an excellent idea, and plans were set for the inaugural event at Arizona Charlie's in 1997.
Findlay, Logan, Abajian and Blum are now members of the hall of fame.
The first event was bolstered by the attendance of Nebraska football coach Tom Osborne and Oakland Raiders owner Al Davis along with several former players who were encouraged to attend by Blum.
From there, the Southern Nevada Sports Hall of Fame has mushroomed into an annual gathering while also generating thousands of dollars in scholarships for local youth. This year's 14th annual event, scheduled June 8 at the Orleans, will induct former high school football coach Frank Nails; former UNLV great and current UNLV assistant basketball coach Stacy Augmon; boxing official Duke Durden, former UNLV soccer player Simon Keith and the Las Vegas Founders Golf Association.
Fittingly, Humm will introduce Nails in what is certain to be a very touching ceremony.
"I'm very humbled and honored," said Nails, 73, who also coached at Rancho, Western and Las Vegas high schools. "I'm bringing a lot of my old players and fellow coaches with me, because they all helped me get to this honor. I didn't do this by myself."
Findlay Automotive Group has been a giant part of the Southern Nevada Sports Hall of Fame. The hall is now housed in the Findlay Automotive Group store at the Galleria in Henderson.
Ralph Lovell, store manager, said a steady stream of followers has visited the hall since it was moved to the location five years ago.
"It's amazing," Lovell said. "I have schools come in with students who want to do reports on the store. This provides great history lessons here. It's really neat."
Abajian said the group had a specific goal from Day One.
"Our goal for kids was to help influence them and give them inspiration and a vision to achieve the same success our inductees have achieved on and off the field," he said. "What started as a gathering to honor one person has mushroomed into one of the biggest charities in Southern Nevada."
The continued support provided by Findlay Automotive Group is recognized by everyone.
"Our organization is so appreciative for the support that the Findlay Automotive Group has provided to us since its inception," said Dale Eeles, executive director of the Southern Nevada Sports Hall of Fame.
"Cliff, Rich and their entire team have provided invaluable logistical and financial support so that we can continue to recognize a select group of individuals who have inspired us through their dedication and commitment to sport and, in turn, support Southern Nevada youth and development programs. As we prepare to induct our 14th class this year, the Findlay Automotive Group has continued to provide a vision so that we can make a difference in the community."
The event kicks off with its annual golf tournament June 8 at Highland Falls Golf Course, beginning with a 6:30 a.m. check-in.
Enshrinement ceremonies are from 6-9:30 p.m. at the Orleans Arena.
For further information, visit
www.sportshalloffame.net.