Findlay Kia, ex-Marine team up to help veterans
November 16, 2012 - 2:14 am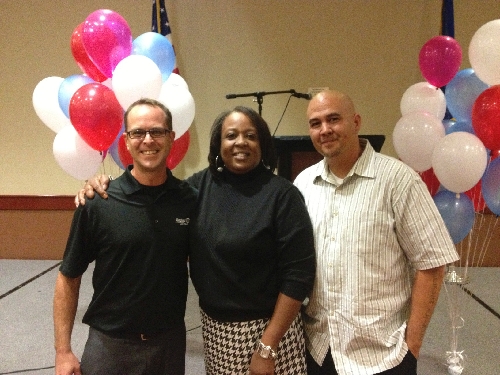 The sale of a used car at Findlay Kia unexpectedly brought a windfall of good fortune to homeless veterans in the area.
David Shick, a former Marine who works as a sales consultant for Findlay Kia, recently sold a preowned Kia Soul to Iler Jenkins. During the course of the sale, she told him about her work as assistant property manager for Help USA, which helps homeless veterans in Southern Nevada.
Shick, a San Antonio native who served four years in the Marines, jumped at the chance to help veterans in need. He decided adopt U.S. Air Force veteran Ronnie Ingreso as part of the organization's annual adoption program for Christmas.
"We're all within a mistake of losing everything we have," said Shick, 42, who was in the Marines from 1988 to 1992 and served in Operation Desert Storm. "In the case of the military, that chance is many times even greater. We need to reach out to each other, and especially to veterans."
After a discussion with Jenkins, the dealership adopted Ingreso.
"I spoke with (Findlay Kia General Manager) Byron Klemaske and he agreed that we needed to adopt a veteran," Shick said. "From there, we got our one veteran and Byron decided to donate another $1,000 to help the organization."
However, that didn't seem to be enough to help those in need.
"During the spring, we are also going to dedicate one of our busier months by donating a designated amount from each sale to Help USA," Shick said. "We could sell as many as 200 vehicles during the month, so the organization could benefit significantly."
Jenkins' dedication moved the Findlay team into action.
"They are working on shoestring budget and they have endless concerns," Shick said. "I have been very lucky in that I can keep a job and I'm healthy."
Jenkins said the organization was very thankful for Findlay Kia's involvement.
"There are a lot of good guys here," she said of Help USA, which has sites near Eastern Avenue and Bonanza Road, and on Main Street near Washington and Owens avenues. "We are nonprofit and there are so many veterans out here with no incomes. I cannot understand that. And, in fact, no veterans should be homeless. Unfortunately, we have a lot of homeless veterans in Southern Nevada."
For more information on the dealership's involvement with Help USA, call Shick at 702-252-8900.
Findlay Kia is part of the Findlay Automotive Group founded more than 50 years ago by Pete Findlay, whose son, Cliff Findlay, now spearheads new- and used-car dealerships in Nevada, Idaho, Utah and Arizona.