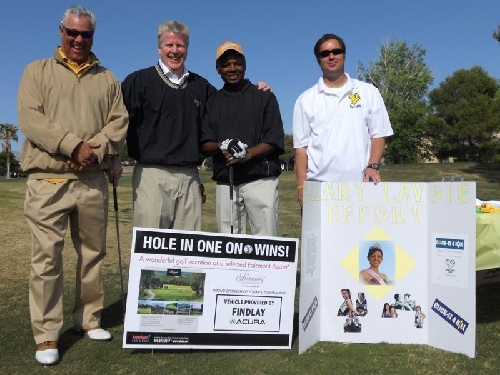 Findlay Acura in the Valley Automall recently played a big part in raising funds for the Leukemia and Lymphoma Society and the Hillary LaVoie Effort during its recent Athletes R Us charity golf tournament at Palm Valley Golf Course in Sun City Summerlin.
The dealership sponsored three par-3 holes at the event. Findlay Acura Director of Marketing Jim Donohue said the sponsorship was the first of several future agreements with public relations executive Kevini Scolari, who organized the golf tournament.
"Everyone was so helpful with the tournament," said Scolari. "Considering the weather conditions, we had an excellent turnout and everyone had a lot of fun."
Scolari said the tournament also brought awareness to the Hillary LaVoie Effort, which encourages safe driving through the usage of seat belts.
LaVoie was a student at Shadow Ridge High School and was killed in a car wreck last September. Friends have joined together to make sure all passengers in vehicles wear seat belts.
Findlay Acura plans to promote a "Band Night for Blood Cancer" charity band night at 7 p.m. Saturday at Town Center Lounge, 5050 Sky Pointe Drive, in the northwest valley near Ann Road and U.S. 95. Highlighting the charity for the Leukemia and Lymphoma Society will be performances by bands including Three Mile Radius and Color9ine.
For more information regarding future events, call Scolari at 756-8002, visit www.teamintraining.org, call Findlay Acura at 982-4100 or visit www.findlayacura.com.