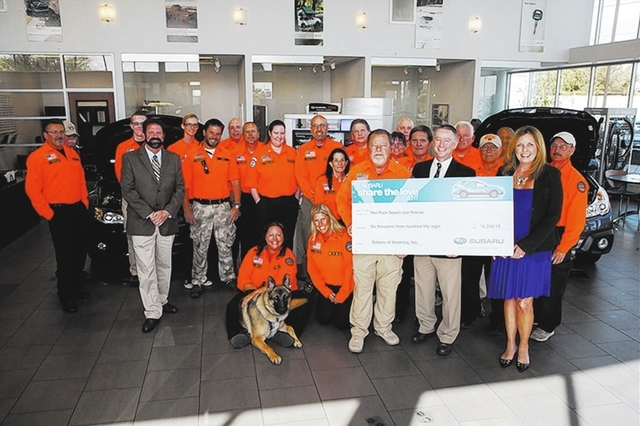 When Ron Kirk died in Red Rock Canyon in March of 2012, Subaru of Las Vegas marketing coordinator Chris Robinson lost one friend while gaining several others.
A three-month search for Kirk's remains ended on a bad note, but Robinson will never forget the dedication of the Red Rock Search &Rescue that worked tirelessly to find Kirk, a native of Chicago.
The mountains in and around Red Rock Canyon can be treacherous, especially when the sun drops behind the western Spring Mountain range. Red Rock Search &Rescue has become synonymous with rescue efforts not only in Clark County but in various locations throughout the country.
With Robinson's good friend and fellow relay runner Kirk gone, Robinson put Subaru's Share the Love campaign together with Red Rock Search &Rescue and generated $6,358.
"It's six months of operation costs," said David Cummings, commander for Red Rock Search &Rescue. "We started out with a handful of people a couple of years ago and we now cover all of Clark County and other states for people who also need our services. We are totally self-funded. Members buy their own uniforms and equipment and the rest."
He said the group is quick to respond no matter what the need.
"We will respond to searches that include missing persons and homicides," Cummings said. "The group keeps growing and building up steam. We provided $1.5 million in free service last year, and that number is going to be much higher next year. We're always trying to do fundraisers, like working the snack bars at auto races and that takes away from what we should be doing. We're so busy that we literally have no time to do enough civic fundraisers.
"You name any facet of industry and it's involved with us," he said.
Cummings' group has grown to about 250 members and includes retired people, police officers, firefighters, military, teachers, doctors and plumbers.
"We are a professional team and we train to professional standards," he said. "We will also go out of state whenever we're needed."
Headed by General Manager Burton Hughes, Subaru of Las Vegas is part of Findlay Automotive Group founded in 1961 by the late Pete Findlay, whose son, Cliff, spearheads 25 new and used car dealerships in Nevada, Arizona, Utah and Idaho.
More information regarding Subaru of Las Vegas can be found by calling 702-495-2100 or by visiting www.Subaruof LasVegas.com.
Each of the Findlay Automotive Group stores can be visited at www.findlayauto.com.
For more information about Red Rock Search &Rescue, visit redrocksar.org.