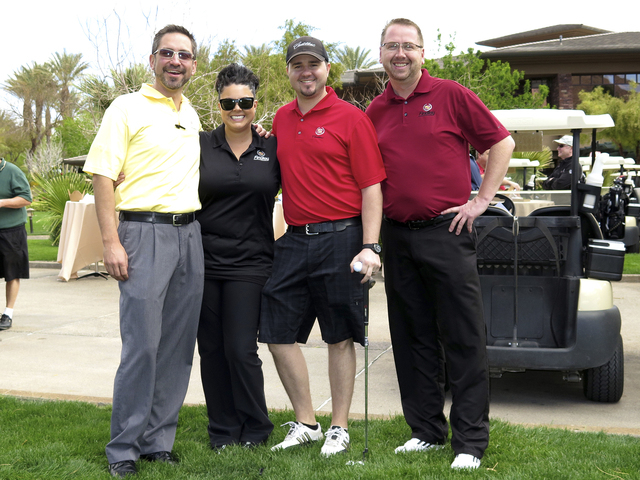 Findlay Automotive Group stores Honda Henderson and Findlay Cadillac participated in the seventh annual Leukemia and Lymphoma Society's Links Fore Leukemia golf tournament recently at the private mountain course at Red Rock Country Club.
The event drew 120 players who tackled the par-72 layout designed by golfing star Arnold Palmer.
The successful tournament generated $74,500 to help the Leukemia Lymphoma Society's efforts to cure leukemia, lymphoma, Hodgkin's disease and myeloma and improve the quality of life of patients and their families.
Included at the tournament were cancer patients Mitch Graham, Rick Korowicki and 6-year-old, two-time blood cancer survivor Dominic McLaughlin and his father, Ryan McLaughlin.
"Another great golf tournament," Ryan McLaughlin said.
"Dominic and I really enjoyed ourselves this year. It's amazing to see how far our little boy has come. Thank you LLS for all of the continued support. We hope to see everyone again next year," he said.
Sponsor and participant Chad Layne, president of Layne Insurance Services, said "Layne Insurance Services supported Links Fore Leukemia because it raises money directly for blood cancer research. It's extremely important for us to support a great organization that I believe will one day find a cure for blood cancer."
Bob Holder, the Findlay Automotive Group comptroller and chairman of the LLS Southern Nevada's board of trustees, said "The Links Fore Leukemia golf tournament is important to LLS of Southern Nevada not only for the funds it raises to battle blood cancers, but also bringing awareness to the LLS mission. The golfers had a great time and want to get involved even more whether that means volunteering; sponsoring the tournament or another event or making a donation. It's a win-win for the golfers and the society."
Twenty-one sponsors included the two Findlay stores along with VideoPoker.com, Enterprise Holdings, Layne Insurance Services, Johnson Jacobson Wilcox, Autotrader.com, Ford Country, Lee's Discount Liquor, Service King Collision Repair Centers, MetLife, Liberty Mutual, Wells Fargo Dealer Services, AFLAC, Bellagio, Sago's Baja Tavern and Lounge, CarKey Photography, Safeco, Capital Premium Finance, Cragin &Pike and Charles Stephen.
The tournament's hole-in-one competitions were sponsored by Findlay Honda Henderson and Findlay Cadillac.
"Findlay Automotive Group has continued to support the LLS mission," said Valerie Weiderman, the golf tournament coordinator. "We value their time and dedication helping us find a cure for blood cancers."
The Leukemia and Lymphoma Society is the world's largest voluntary health agency dedicated to blood cancers. The society raises funds for life-saving blood cancer research, financial assistance to cover patients' expenses for transportation, medication and testing, and provides free educational material and events.
For more information on the society, visit www.lls.org/snv or call 702-436-4220.
Findlay Automotive Group was founded more than 50 years ago by the late Pete Findlay, whose son, Cliff, now leads automotive dealerships in Nevada, Utah, Arizona and Idaho. Visit www.findlayauto.com for more information on the dealership.