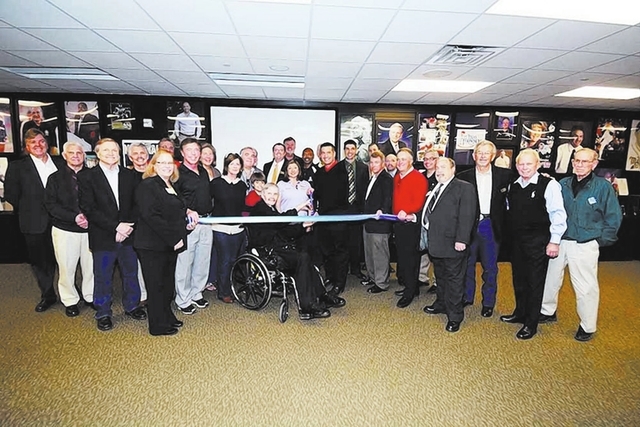 In a community often maligned because it destroys its history rather than preserving it, the Southern Nevada Sports Hall of Fame took a step recently to save the memory of sports.
The rededication of the hall at its new home in Findlay Toyota in Henderson's Valley Automall Feb. 8 drew a throng of enthusiasts and inductees in a heartwarming ceremony attended by many noted dignitaries.
Among the many who praised the event and the new location were former Las Vegas High School baseball coach Lou Pisani and ex-Bishop Gorman, Rancho and Western High football coach Frank Nails and Findlay Automotive Group Chairman Cliff Findlay.
"This is wonderful," said Pisani, who was inducted into the hall in 2005. "Not only does it represent the history of athletics here, but it also gives us a chance to meet and share our stories.
"I can't say enough about the dedication that has gone into this. There are so many outstanding pictures of everyone and the displays have gotten bigger and better.
"It's beautiful. I have been inducted into five halls and this one is the most impressive."
Bruce Bayne, who was inducted in 2010, lauded what the hall and Findlay Automotive Group for its continued support.
"Anybody who will house this is doing a great thing," said Bayne. "This houses the history of sports in Southern Nevada.
Nails, inducted in 2012, echoed Pisani's praise of the hall, which was started in 1997 with the induction of former Bishop Gorman, University of Nebraska and NFL quarterback David Humm, who was coached by Nails.
"I was on the stage in 1997 with Tom Osborne (the head coach at Nebraska), Al Davis of the Oakland Raiders and Frank Hawkins, who played for the Raiders and me at Western High School," said Nails, a 75 year-old resident of Las Vegas for 50 years.
"The dinner was held at the old Arizona Charlie's on Decatur and it was full of former NFL players like Jim Plunkett, Art Shell, Marcus Allen among others. This has all gone beyond what I imagined it would be. It has some well-known and well-deserved athletes along with others involved with athletics. It's a very humbling experience to be a part of it."
Findlay, a former Western High and UNLV (then NSU) star basketball player, was inducted in 2001. He said his company welcomed the hall's move to Findlay Toyota.
"It's welcomed here as long as they need it," said Findlay. "Someday the hall will move to somewhere like the airport, but for now we're happy to have it here."
Findlay Toyota General Manager Rich Abajian also praised the move of the hall which now includes 79 inductees.
"Findlay Toyota is proud to house such a great organization as the Southern Nevada Sports Hall Of Fame," said Abajian. "The work that was put in by all the current members to achieve their incredible success is an inspiration to us all. The feeling you get when you walk through the room and see the incredible members of the hall and their incredible accomplishments is truly motivational. In addition, the charity work by the Southern Nevada Sports Hall of Fame has proven to be invaluable to numerous organizations and the youths of Southern Nevada. Hopefully, this hall will continue to serve as a motivational spring board for the youths of Southern Nevada to follow their dreams."
Former Las Vegas Review-Journal sports writer Royce Feour is also in the hall and he is honored to be a part of it.
"I am very proud to have been inducted into the Southern Nevada Sports Hall of Fame," he said. "I grew up in Las Vegas and to be part of the hall of fame with the legendary sports figures from this community is truly an honor. I feel fortunate to have been a member of the 2006 class along with Greg Anthony, Dr. Gerald Higgins, George McCall and Richard Steele."
The Southern Nevada Sports Hall of Fame will continue to host its annual induction ceremony, as well as look for additional opportunities to promote its mission in the community. The induction ceremony will be held May 30 at the Orleans Arena. The members of the Class of 2014 will be announced in March.
The Southern Nevada Sports Hall of Fame is a nonprofit organization committed to recognizing the achievements by Southern Nevada athletes in the world of sports and the local community.
Proceeds from the organization's fundraising efforts are donated to organizations committed to the support and enhancement of Southern Nevada youths through active participation in programs designed to promote leadership, values and character through sports.
For more information, visit www.sportshalloffame.net or through social media at /SNSHF and use #SNSHF.
Findlay Toyota is at 7733 Eastgate Road in Henderson.
Further information can be found by visiting www.findlaytoyota.com or by calling 702-566-2000.